Coronavirus (COVID-19) vaccine
In this section
---
About the NHS COVID-19 vaccine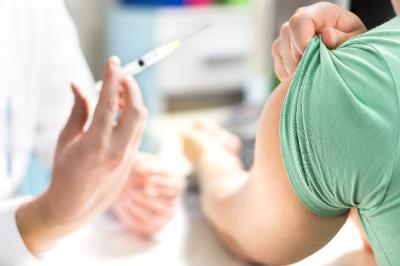 The NHS is offering the coronavirus (COVID-19) vaccine to people most at risk from coronavirus.
The vaccine is safe and effective. It gives you the best protection against coronavirus.
The vaccine is given as an injection into your upper arm. You will receive 2 doses.
You should continue to take recommended precautions (including social distancing) after vaccination to avoid infection and further transmission.
The NHS is vaccinating people in priority order.
You can now book your vaccine if:
you're aged 40 or over
you'll turn 40 before 1 July 2021
you're at high risk from COVID-19 (clinically extremely vulnerable)
you have a condition that puts you at higher risk (clinically vulnerable)
you have a learning disability
you're an eligible frontline health or social care worker
you get a Carer's Allowance, get support following an assessment by your local authority or your GP record shows you're a carer
If you're an eligible unpaid carer but you cannot book an appointment, speak to your GP surgery.
Find out more about who is eligible to have a coronavirus vaccination.
Book a vaccine if you are eligible

Hillingdon residents aged 40 and over can now receive their first vaccine at walk-in services in local mass vaccination centres. Read more on the NHS North West London Collaboration of Clinical Commissioning Group's website. Second vaccines should be booked via the national NHS booking system.
Find out more about the vaccine programme in Hillingdon
Read more about the COVID-19 vaccine on the NHS website
---
Reports of very rare blood clots
The MHRA is carrying out a detailed review of reports of a very rare blood clotting problem affecting a small number of people who have had the Oxford/AstraZeneca vaccine.
The problem can also happen in people who have not been vaccinated and it's not yet clear why it affects some people.
The COVID-19 vaccine can help stop you getting seriously ill or dying from coronavirus. For people aged 30 or over and those with other health conditions, the benefits of being vaccinated outweigh any risk of clotting problems.
For people under 30 without other health conditions, it's currently advised that it's preferable to have another COVID-19 vaccine instead of the Oxford/AstraZeneca vaccine.

Call 111 immediately if you get any of these symptoms starting from around 4 days to 4 weeks after being vaccinated:
a severe headache that is not relieved with painkillers or is getting worse
a headache that feels worse when you lie down or bend over
a headache that's unusual for you and occurs with blurred vision, feeling or being sick, problems speaking, weakness, drowsiness or seizures (fits)
a rash that looks like small bruises or bleeding under the skin
shortness of breath, chest pain, leg swelling or persistent abdominal (tummy) pain
For more information visit the North West London CCG's website
---
Having your COVID-19 second vaccine
It is important that you have both doses of your vaccine to ensure you have the maximum level of protection from COVID-19.
You should have your second vaccine 11 to 12 weeks after your first vaccine. You will need to return to the same venue that you had your first vaccine.
If your GP booked you in for your first vaccine, they will contact you to book your second vaccine. Please note: your GP may not call to book you in until close to the time your second vaccine is due at 11-12 weeks.
If you booked your first vaccine through one of the online booking systems, you will be able to book your second vaccine through the national booking system - you can do this the day after you have had your first vaccine.
If, for any reason, you miss having your second vaccine 12 weeks after your first, please book it in and have it as soon as possible.
---
Social workers
If you are a social care worker or provider and you have any queries about the vaccine in Hillingdon, please email the Director of Provider Services and Commissioned Care, at covidvaccine@hillingdon.gov.uk. Other queries about the vaccine should be directed to the NHS.
---
Why get the vaccine?
In this video, some of our social care staff explain why they took the vaccine.
The NHS has produced a collection of videos in community languages to ensure important messaging about the vaccine reaches as many people as possible. There are also British Sign Language (BSL) videos available on the health publications website.
There are videos available in:
Urdu
Arabic
Turkish
Bengali
Polish
Romanian
Gujurati
Punjabi
Spanish
The Department of Health and Social Care's "What to expect after your COVID-19 vaccination" leaflet is available in 19 different languages.
---
Common vaccine questions answered
---
Beware of vaccine scams
There are reports of fraudsters using text messages to offer the COVID-19 vaccine.
Please note the NHS will:
never ask you to press a button on your keypad asking you to confirm you want the vaccine
never ask for payment for the vaccine or for your bank details.
If you receive a text message from an unfamiliar number:
do not respond to it or click on any links
do not enter any personal or log on details
do not make any payment
---
Share your vaccine story
Have you had your vaccine or are you getting one soon? If you, or someone you know, would like to be featured in our vaccination publicity campaign, please email corporatecommunications@hillingdon.gov.uk with:
your name
your age (if you're happy to give it)
the town (in Hillingdon) you live or work in
a high resolution photo of yourself and a sentence or two on why you're being vaccinated or a video clip (preferably MP4 format) of you talking about your reasons for having the vaccine.
---
Vaccination data
For information on the number of COVID-19 vaccinations provided by the NHS in England, see the NHS website.
Page last updated: 11 May 2021