In this section
---
Self-isolation if you or someone you live with has symptoms
If you are feeling unwell and experiencing symptoms of the coronavirus (a high temperature or a new, continuous cough), do not go to a GP surgery, pharmacy or hospital; you must self isolate for 7 days.
If you live with someone who has symptoms, you need to self isolate for 14 days from the day their symptoms started. This is because it can take 14 days for symptoms to appear.
---
Stay at home and away from others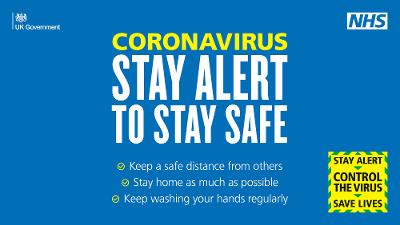 The government has advised that members of the public must stay at home in order to control the spread of the virus, with instructions that we can only leave our homes for very limited purposes.
Only leave home for the following reasons:
shopping for basic necessities - as infrequently as possible
one form of exercise a day
any medical need - to provide care or to help a vulnerable person
travelling to and from work but only where this is absolutely necessary and you cannot work from home
You should not:
meet friends - if your friends ask you to meet, you should say no
meet family members who do not live in your home
go shopping - except for essentials, such as food and medicine and you should do this as little as you can; use food delivery services where you can
The government has also advised:
all gatherings above 2 people (excluding gatherings of people in a household) will be banned
all libraries, playgrounds, outdoor gyms and shops providing non-essential goods will be closed
parks will remain open for exercise but gatherings will be dispersed
all social events, including weddings and baptisms, will be stopped - this does not include funerals
---
Exercise at home
There are lots of things you can do to help you keep fit and healthy, whilst following the advice about staying at home.
Our Parks - follow online workouts (Fitness Workout at 10am, Calm Full Body Workout at midday and yoga at 7.30pm) with Our Parks, streamed via Facebook Live.
Sport England - useful tips on how you can get active when you're at home, if you're well enough.
Home workout videos - clear some space in the living room and give these easy 10-minute workouts a go.
10-minute workouts - equipment-free fitness routines that are great to do at home.
Exercise for over-65s - any levels of activity are good for older adults and the more you can do, the better.
Getting active when you find it difficult - with regular standing and stretches, you can move more in the best way for you.
If you're keeping active at home, why not let email us at sportandphysicalactivity@hillingdon.gov.uk and share how you're keeping healthy.
On Twitter? You can also follow #StayInWorkout to post your own ideas and check out others.
---
Activities at home
There are many ways to stay entertained at home.
Our Adult Learning team has put together a list of activities - ranging from arts and crafts to gardening - and tips on staying productive if you are working from home.
If you're a Hillingdon library member, you can also access a range of reading materials, e-learning tools and explore history and genealogy with our free online resources.
---
Looking after your mental wellbeing
It's important to take care of your mind as well as your body.
Every Mind Matters has released expert advice and top tips on how to look after your mental wellbeing whilst staying at home. Their website also includes guidance if you're feeling worried or anxious about the outbreak.
---
For official, trustworthy and timely information and advice about coronavirus (COVID-19), use the free GOV.UK Coronavirus Information Service on WhatsApp. Simply add 07860 064422 in your phone contacts and then message the word 'hi' in a WhatsApp message to get started.
Page last updated: 27 Mar 2020