In this section
---
Reducing the spread of infection
Wash your hands with soap and water often, for at least 20 seconds
Use hand sanitiser gel if soap and water are not available
Cover your mouth and nose with a tissue or your sleeve (not your hands) when you cough or sneeze
Put used tissues in the bin straight away and wash your hands afterwards
Clean objects and surfaces you touch often (like door handles, kettles and phones) using your regular cleaning products
Clean a shared bathroom each time you use it, for example by wiping the surfaces you have touched
Do not share towels, including hand towels and tea towels
---
What to do if you need medical help
Do not go to a GP surgery, pharmacy or hospital.
If you have symptoms of coronavirus (a high temperature, a new, continuous cough or change in your sense of smell/taste), use the 111 online coronavirus service.
Use the 111 coronavirus service
Only call 111 if you cannot get help online.
For life-threatening emergencies, call 999 for an ambulance
---
Self-isolation and testing if you or someone you live with has symptoms
If you are feeling unwell and experiencing symptoms of the coronavirus (a high temperature, a new, continuous cough or change in your sense of smell/taste), you must self-isolate for seven days.
If you live with someone who has symptoms, you need to self-isolate for 14 days from the day their symptoms started. This is because it can take 14 days for symptoms to appear.
Anyone with a new, continuous cough, high temperature or change in their sense of smell/taste is asked to immediately report these symptoms and book a test at www.nhs.uk/coronavirus.
---
Stay at home and away from others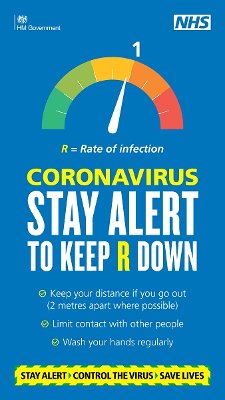 The government has advised that members of the public must continue to stay at home as much as possible, and has instructed the public to only leave their homes for very limited purposes. You must ensure you are 2 metres apart from anyone outside of your household when you leave your home.
Up to 6 people can meet in public or private outdoor spaces, as long as social distancing is practised by those from different households.
Face coverings can help us protect each other and reduce the spread of the disease if you are in an enclosed space where social distancing isn't possible and where you will come into contact with people you do not normally meet. This is most relevant for short periods indoors in crowded areas, for example on public transport or in some shops.
For guidance on making and wearing face coverings visit gov.uk
Only leave home for the following reasons:
going to shops that are permitted to be open - to get things like food and medicine, and to collect goods ordered online or on the phone
exercise outside for as often as you wish and sit and rest outside - exercise or recreation can be alone, with members of your household, or with 6 other people from outside your household. Up to 6 people will be able to meet outside (in parks, gardens and other private outdoor spaces) - provided those from different households continue to strictly observe social distancing rules by staying 2 metres apart.
any medical need, to donate blood, avoid injury or illness, escape risk of harm, or to provide care or to help a vulnerable person
where parents or someone with parental responsibility do not live in the same household, children under 18 can be moved between their parents' homes to continue existing arrangements for access and contact
for work, if you cannot work from home
critical workers and parents or guardians of vulnerable children may leave their home to take children to and from school or their childcare provider
You should not:
leave your house to visit your friends and family in their home
The government has also advised:
---
Essential travel
Road Safety Great Britain is encouraging all road users to help avoid collisions and casualties and reduce the strain on the emergency services by taking extra care when making essential journeys.
For more information, visit www.roadsafetygb.org.uk/takeextracare
Walking and cycling will reduce pressure on the public transport system and the road network. Consider walking and cycling if you can.
See off-road cycle routes in Hillingdon
---
Staying safe online
During the current restrictions, the police are calling on parents, friends and family to pay particular attention to what young or vulnerable people in their care are looking at online.
The police believes that social isolating measures could make some of the most vulnerable people in society more susceptible to radicalisation (the process by which a person comes to support terrorism and forms of extremism leading to terrorism) or other forms of grooming, and that the risk of being drawn into violent extremism may increase for some vulnerable people.
If you have any worries or concerns, visit the dedicated Let's Talk About It website, which has advice and guidance on what signs to look out for and what to do and where to go for help if you think somebody is being placed at, or is at, particular risk of being radicalised and drawn into violent extremism or terrorism.
---
Accessible formats and different languages
---
For official, trustworthy and timely information and advice about coronavirus (COVID-19), use the free GOV.UK Coronavirus Information Service on WhatsApp. Simply add 07860 064422 in your phone contacts and then message the word 'hi' in a WhatsApp message to get started.
Page last updated: 01 Jun 2020