In this section
---
Our parks and green spaces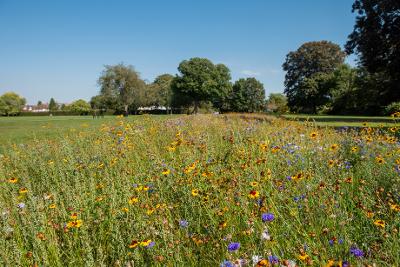 Currently our parks and green spaces remain open but please adhere to government guidance on social distancing.
The council believes that by keeping parks and green spaces open it will provide residents with opportunities for physical activity and help mental wellbeing - particularly for those without a garden. However we encourage residents to adhere to government guidance.
Park use guidance
Exercise outside for as often as you wish and sit and rest outside - exercise or recreation can be alone, with members of your household, or with 6 other people from outside your household. Up to 6 people will be able to meet outside (in parks, gardens and other private outdoor spaces) - provided those from different households continue to strictly observe social distancing rules by trying to stay 2 metres apart.
Up to 6 people can meet in public or private outdoor spaces, as long as social distancing is practised by those from different households.
Social distancing is absolutely crucial, so please stay at least 2 metres apart from others not in your household at all times.
We have turned off all drinking fountains within our parks.
Keep your dog on a lead at all times to ensure you can safely keep 2 metres away from others. The government has published guidance for dog walkers on their website.
Walking and cycling will reduce pressure on the public transport system and the road network. Consider walking and cycling if you can.
See cycle routes in Hillingdon
See walking trails in Hillingdon
---
Ruislip Lido
Whilst it remains the position of Hillingdon Council to keep its award winning parks and open spaces open to the public for the benefit of the health and wellbeing of our residents of all ages, we can only do so if government guidelines relating to social distancing are followed.
Given the number and size of our parks and open spaces, the police simply do not have the resources to deal with those putting others at risk by not abiding by the guidance.
Accordingly, we have made the difficult decision to temporarily close the beach at Ruislip Lido in response to visitors not adhering to social distancing guidelines at the site.
Whilst we wanted to keep the beach open for recreation in line with government guidance, and are aware that many residents are sticking to guidelines, we have decided to close and fence off the beach in the interest of public safety.
This decision will be kept under review.
Temporary toilet facilities are available at Ruislip Lido.
---
Leisure centres and gyms
The outdoor lido at Hillingdon Sports and Leisure Complex is now open.
Gyms, fitness classes and pools have reopened at Hillingdon Sports and Leisure Complex , Highgrove Pool and Fitness Centre, Botwell Green Leisure Centre and Queensmead Sports Centre .
Note: the outdoor swimming pool at Hillingdon Sports and Leisure Complex will close at the end of September.
Anyone wishing to use the facilities will need to pre-book a one hour time slot via the Better app or website.
---
Playgrounds, skateparks and outdoor gyms
As part of our restoration of services, all of our playgrounds, outdoor gyms, ball courts and skateparks are now open.
Each playground and outdoor gym facility has been inspected by an independent safety adviser before reopening, and new signage is in place to instruct users on how to keep themselves and others safe.

It is essential that users follow the specific safety advice for each site, which is in line with the government's social distancing and safety guidance. Any failure to do so puts lives at risk.

If you or a member of your household has COVID-19 symptoms, please stay home.

Clinically or extremely vulnerable people are at higher risk when using shared equipment.

When visiting a recreational facility is it important that you read the signage on site first and follow the specific instructions.
If using a playground, don't let children put their mouths on the equipment or their hands in their mouths
Keep hand sanitiser with you - apply it before and after using any equipment
Keep at a safe distance at all times, unless with members of your household - if equipment is in use, wait or return later
Do not share equipment - only one person at a time
You can meet in groups of up to six but maintain social distancing - do not congregate
Avoid touching your face
No fist-bumps, high-fives or hugs!
Don't share phones or equipment
Protect yourself and the NHS and don't try any difficult or dangerous tricks
As a general rule, do not consume food or drink - however, a drink is allowed if you are using an outdoor gym
If using an outdoor gym, bring your own towel and hygiene products to clean equipment after use
Wash your hands as soon as you get home
Remember to put your rubbish in the bin or take it home with you.
---
Tennis, golf and bowls
We have reopened all of our tennis courts.
Our tennis courts at Cavendish Recreation Ground, Fassnidge Park, Hillingdon Court Park and Churchfield Gardens are still able to be pre-booked.
We have also reopened our golf courses at Haste Hill and Uxbridge.
Some bowling greens have been given approval to reopen by the council. Contact your bowling club for more details.
---
Fishing
Fishing will be permitted at Little Britain Lake and on the adjacent River Colne and River Frays from 9am on Saturday 25 July.
---
Keeping fit if you're self-isolating or working from home
There are lots of things you can do to help you keep fit and healthy, whilst following government guidance.
Our Parks - follow online workouts (Fitness Workout at 10am, Calm Full Body Workout at midday and yoga at 7.30pm) with Our Parks, streamed via Facebook Live.
Sport England - useful tips on how you can get active when you're at home, if you're well enough.
Home workout videos - clear some space in the living room and give these easy 10-minute workouts a go.
10-minute workouts - equipment-free fitness routines that are great to do at home.
Exercise for over-65s - any levels of activity are good for older adults and the more you can do, the better.
Getting active when you find it difficult - with regular standing and stretches, you can move more in the best way for you.
Move More - Active at Home - tips for staying active at home for older people and those with health conditions
Tennis at Home - improve your tennis skills any time, any place, with Lawn Tennis Association Home Activities Hub
If you're keeping active at home, why not email us at sportandphysicalactivity@hillingdon.gov.uk and share how you're keeping healthy.
On Twitter? You can also follow #StayInWorkout to post your own ideas and check out others.
---
Activities at home
There are many ways to stay entertained at home.
Our Adult Learning team has put together a list of activities - ranging from arts and crafts to gardening - and tips on staying productive if you are working from home.
If you're a Hillingdon library member, you can also access a range of reading materials, e-learning tools and explore history and genealogy with our free online resources.
---
Looking after your mental wellbeing
It's important to take care of your mind as well as your body.
Every Mind Matters has released expert advice and top tips on how to look after your mental wellbeing whilst you're at home. Their website also includes guidance if you're feeling worried or anxious about the outbreak.
The NHS-led public webinar series, Coping Well During Covid, focuses on helping you cope with the impact of COVID-19. The 60 minute webinars feature topics such as managing wellbeing, anxiety, low mood and sleeping difficulties. Each webinar takes place on Tuesdays at 4pm, and invites participants to explore ideas and tools to support mental health and wellbeing.
---
Dental practices
Most dental practices are now open and able to safely provide a range of treatments but are having to prioritise patients with urgent need and delayed treatments.
If you need urgent dental care and are having trouble finding a dental practice that has appointments, call NHS 111.
Page last updated: 15 Oct 2020