Hillingdon Hospital consultation
A planning application for a new Hillingdon Hospital has been submitted to Hilllingdon Council by Hillingdon NHS Trust.
This consultation has now closed.
About the application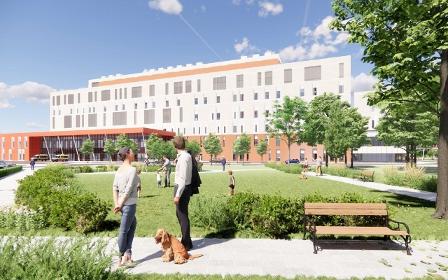 Hillingdon NHS Trust's application for a new Hillingdon Hospital involves:
a full application seeking planning permission for demolition of existing buildings (excluding the Tudor Centre and the Old Creche) and redevelopment of the site to provide the new Hillingdon Hospital, multi-storey car park and mobility hub, vehicle access, highways works, associated plant, generators, substation, new internal roads, landscaping and public open space, utilities, servicing area, surface car park/ expansion space, and other works incidental to the proposed development and
an outline planning application (all matters reserved, except for access) for the demolition of buildings and structures on the remaining site (excluding the Grade II Listed Furze) for a mixed-use development comprising residential (Class C3) and supporting commercial, business and service uses (Class E), new pedestrian and vehicular access, public realm, amenity space, car and cycling parking.
Details: Comprising a maximum height of 8 storeys, 79,594sqm of hospital building (GIA) plus 23,034sqm of multi-storey car park, 327 residential units and 800sqm of commercial floorspace.
Page last updated: 02 Aug 2022