Rubbish and recycling
We would like to reassure our residents that we are doing all we can to continue to provide normal rubbish and recycling services.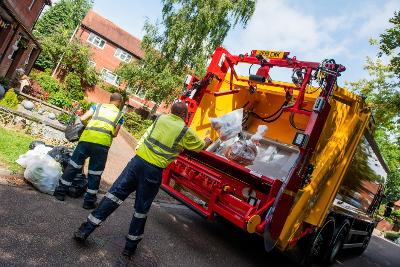 We are currently operating all services as normal; however, as we prioritise general waste and dry mixed recycling collections, your weekly garden waste service may be affected.
We will continue to collect your food waste on your normal collection day, even if we are unable to collect your garden waste.
If your garden waste is not collected, please leave your bags at the edge of your property and we will collect them as soon as possible.
View the bank holiday collection dates
Disposing of your rubbish safely
To help prevent the spread of the coronavirus, Public Health England has recommended that residents who are self isolating double-bag their rubbish, including disposable cloths, tissues and any masks that may have been worn.
If you or your household is self isolating, please put your waste in a black bag, tie it, place into another black bag and tie it again. Be careful not to contaminate your recycling with any general rubbish.
Keep all rubbish bags aside for at least 72 hours before putting out on your normal collection day, ensuring they are kept separate from your recycling and out of reach of children and pets.
Waste and recycling centres
Our Harefield Civic Amenity Site (New Years Green Lane) and West Drayton Waste Weekends (Tavistock Road) are closed until further notice.
Residents are asked to hold onto large items, such as furniture and mattresses, and avoid doing big clear-outs at home until the outbreak has subsided.
Please do not dispose of waste on a bonfire, as the smoke causes air pollution and has potential health effects for you and your neighbours, and do not place items outside of charity shops while they are closed.
Textiles
The Salvation Army has advised that they have suspended collections from textile banks in Hillingdon until further notice.
If you would like to recycle your textiles (whatever the condition) , please use our textile collection service and put your purple tinted sacks out on the same day as your clear recycling bags.
Order more recycling bags online
Bulky waste collection
New bookings for bulky waste collections have been suspended until further notice.
Bookings already confirmed will be honoured but we will no longer enter residents' homes to carry out assisted collections.
If you no longer require your bulky waste collection, please call our Contact Centre on 01895 556000 to cancel, so that we can divert these resources elsewhere.
Page last updated: 01 Apr 2020