Apply for the Tashan Daniel bursary scheme
Tuesday 22 June: Young people in Hillingdon can apply for the next round of the Tashan Daniel Award bursary from Monday 28 June until Sunday 11 July, to support their aspirations in sport, culture and education.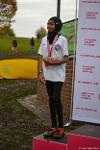 Hillingdon Council created the award in memory of young resident Tashan Daniel, aged 20 from Hillingdon, who was tragically killed in an unprovoked attack at Hillingdon Underground station in September 2019.
The memorial bursary is available to Hillingdon residents up to the age of 21, and council funding will be allocated to successful applicants for requests including sports equipment, qualifications in art and culture, vocational courses in further education, and sports training and competing opportunities (in the UK only).
Asmaa Abdirahman, aged 14 from Hayes, represents Hillingdon in cross country and won Gold at the London Youth Games in 2019. She attends Hillingdon Athletics Club and received £2,000 for equipment and coaching to help achieve her ambition to one day become an Olympian.
Asmaa said: "This funding will motivate me and make it easier to achieve my goals in both the short and long-term. I hope to continue Tashan's legacy in the future and honour his name, as he was a teammate at my club.
"I also want to inspire more young Muslim and ethnic minority girls to get involved in athletics. Special thanks to Tashan Daniel's family for this wonderful opportunity."
Young people can receive support to the maximum value of £2,000 per person, per year, and individual applications will be assessed by a panel, including a member of the Daniel family.
Chandima Daniel, Tashan's father, said: "The Daniel family is extremely proud and grateful to all those involved at the council in setting up this amazing bursary in Tashan's name.
"To be able to help young people within the borough achieve their dreams and aspirations is fantastic. We feel immensely proud and honoured about the bursary and grateful that something positive can happen through the tragic loss of Tashan's life."
Leader of Hillingdon Council, Cllr Ian Edwards, said: "The Tashan Daniel Award supports young people in the borough to achieve their aspirations and we're so pleased that residents like Asmaa are already benefiting from the bursary.
"Tashan was a keen sportsman with a passion to compete in the Olympic games as a world class sprinter, and we hope that this tribute to him will help local young people to reach their goals in sport, culture and education."
To apply visit
www.hillingdon.gov.uk/tashan-daniel-award
Page last updated: 25 Jun 2021