New parking machines to benefit residents and the environment
Friday 11 December: Hillingdon Council is installing brand new pay and display parking machines across the borough, giving residents and visitors the added option of paying by credit or debit card.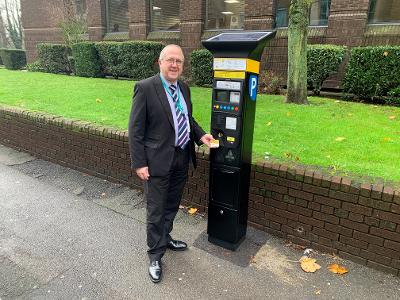 The state-of-the-art machines, which are part of a £1.4 million five-year investment, are also better for the environment, with the vast majority powered by solar energy.
All 273 of the council's old pay and display machines are set to be replaced by Christmas.
The new machines continue to accept HillingdonFirst cards, allowing residents to receive preferential parking rates in council car parks and on-street parking bays.
The council is also planning to introduce a 'pay by phone' option in due course.
Cllr Keith Burrows, Hillingdon Council's Cabinet Member for Planning and Transportation, said: "Our new machines operate in much the same way but offer additional functionality by accepting contactless card payments, as well as the usual coins if people prefer. This provides more modern and convenient payment options for residents."
For more information see www.hillingdon.gov.uk/parking
Page last updated: 12 Feb 2021