Hillingdon celebrates homegrown produce at Autumn Show
Friday 25 September: Hillingdon residents of all ages entered their homegrown produce in Hillingdon Council's annual Autumn Show, held at The Great Barn, Ruislip on Saturday 19 September.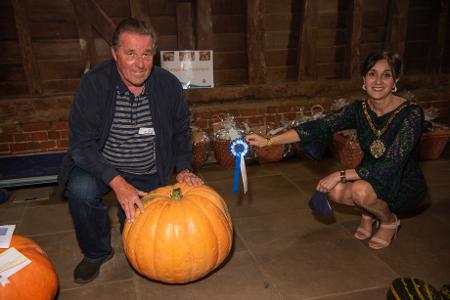 The Autumn Show, now in its seventh year, commends residents for growing flowers, fruit and vegetables, with additional prizes for pieces of art and homemade produce. All winners receive garden centre vouchers.
The show proved another great success, with 311 exhibits entered across 52 categories, including 'Tomatoes,' 'Herbs,' 'Jams', and 'Apples'.

The latest government guidelines and Track and Trace procedures were in place to allow for the staging and viewing of the exhibits throughout the day. This included strict social distancing and the wearing of masks.

Peter Wilson, aged 72 from Hayes, won prizes in 18 categories, including 'Heaviest Pumpkin'. He said: "I was so delighted that the Autumn Show went ahead as it's such a buzz and gives me a competitive edge when growing my fruit and vegetables.

"I really enjoyed the competition this year as it was so well organised, and I'd spent months growing my perfect pumpkin! Growing your own fruit and veg is very satisfying and it's a great form of exercise and fresh air - I'm already preparing for next year!"

David Saunders, aged 61 from Ickenham, won prizes in seven categories as well as 'Best in Show' for his exceptional exhibit of parsnips. He said "This is the second year I've entered the competition and I was ecstatic to win Best in Show - just over the moon! I've always grown my own vegetables but it's very different entering a competition, but I really enjoyed it. I still can't believe I won so many categories."

The youngest winner on the day was James Diggins, aged five from Uxbridge, who won first prize in the Children's Under-9s Art category.

Cllr Jonathan Bianco, Hillingdon Council's Cabinet Member for Finance, Property and Business Services said: "The Autumn Show is a wonderful celebration of homegrown produce and creativity, and it was fantastic to see so many proud residents entering their prized fruit and vegetables. I was particularly impressed with the art entry from our youngest entrant on the day - well done to everyone involved."

A full list of winners from the Autumn Show is available at www.hillingdon.gov.uk/autumnshow
Page last updated: 12 Feb 2021