Businesses encouraged to promote themselves on free online directory
Tuesday 14 July: Hillingdon Council is inviting businesses to sign up to a brand new business directory that has been designed to encourage residents to support local high streets following the pandemic lockdown.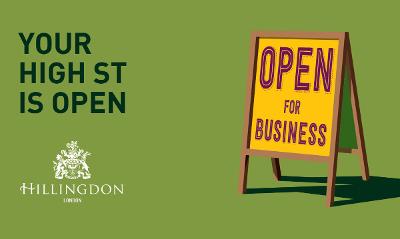 The free online directory forms part of the council's support package to help get businesses back up and running safely and encourage those who live and work in the borough to shop locally to boost the borough's economy.
The directory is now live on the council's website and provides shops and businesses with the opportunity to promote their products and services directly by registering for free on the site and posting key information for residents.
Business listings are categorised so shoppers can see what is on offer in their area. The site makes it easy for customers to find out about the services offered and where, plus opening hours and any coronavirus-related restrictions.
As well as launching the new directory, the council has been helping local businesses become Covid Secure as restrictions ease. The package of support includes a free street marking service for businesses to ensure social distancing, assistance with tables and chairs licence applications for outdoor dining and support with risk assessments.
The council's licensing and food safety teams have also held two special Q&A sessions for businesses on Twitter relating to any questions they have about operating safely. The teams have also visited more than 1,200 premises to offer help and guidance in support of the reopenings on 4 and 13 July.
The council has also been helping local businesses access the government's package of temporary financial measures to help them through this period of disruption. Eligible smaller businesses have been provided with a one-off cash grant of £10,000, while larger premises were entitled to a cash grant of £25,000.
Between Monday 23 March and Friday 3 July 2020, the council distributed over £41 million in support grants to more than 3,000 local businesses. The Local Authority Discretionary Grants for small businesses not eligible for previous grants has seen £720,000 distributed.
Cllr Ray Puddifoot, Leader of Hillingdon Council, said: "COVID-19 has had a huge impact on the local business community and now that restrictions are easing we want to support them to get back on their feet.
"The business directory is free and a great way of connecting businesses with customers. We are encouraging all local businesses to sign up. It is easy to do, only takes a few minutes and will allow shoppers to find them, buy from them and help the local economy."
For more information about the directory visit: www.hillingdon.gov.uk/businessdirectory
Page last updated: 12 Feb 2021