Children encouraged to join the Summer Reading Challenge online
Friday 12 June: Local children are being encouraged to take part in the annual Summer Reading Challenge online from June to September, to enjoy books and help improve reading and literacy.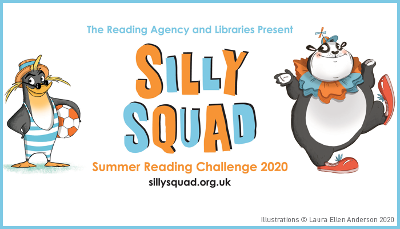 Hillingdon Libraries partnered with The Reading Agency to launch the popular initiative online on Friday 5 June, supporting children to complete reading challenges to receive digital prizes and certificates.
Hillingdon Libraries will also be running a range of digital activities every Friday, including crafts, quizzes and creative writing tasks to encourage more families to take part.
This year's Summer Reading Challenge theme is 'Silly Squad', which celebrates hilarity, happiness and laughter. The aim is to encourage children to read whatever makes them happy, and each child can choose the target number of books they want to read.
A recent survey commissioned by The Reading Agency showed that 45 per cent of young people are reading more during lockdown, and Hillingdon Council is offering free digital books and audio books for library card holders.
Parents can download the library service's BorrowBox app, which allows users to access eBooks and eAudiobooks for free using their library card. If you're not a Hillingdon Library member, residents can join by registering online at www.hillingdon.gov.uk/joinlibrary.
From Monday 22 June, a reserve and collect service will be available at Manor Farm Library, Oak Farm Library and Hayes End Library. Books will need to be reserved on the phone or online prior to visiting, and social distancing guidelines must be followed. From Monday 29 June, this service will be extended to Northwood Hills, West Drayton and Uxbridge libraries and the mobile library.
Cllr Richard Lewis, Hillingdon Council's Cabinet Member for Central Services, Culture and Heritage, said: "Almost 11,000 children visited our libraries to take part in the Summer Reading Challenge last year, with 5,300 completing the challenge, ranking the council as the second highest for participation in London.
"The challenge is a great way to continue to support children's reading throughout the summer holidays, particularly during the current pandemic, ensuring they do not fall behind when they can return to school. We hope that many more families will sign up for free and make reading a fun part of their summer."
Page last updated: 12 Feb 2021