Company fined for advertising without planning permission
Friday 20 December: A property development and lettings company that broke planning laws by painting a large commercial painting of its logo on the side of a block of flats in Northwood has been ordered to pay more than £11,000, following a prosecution by Hillingdon Council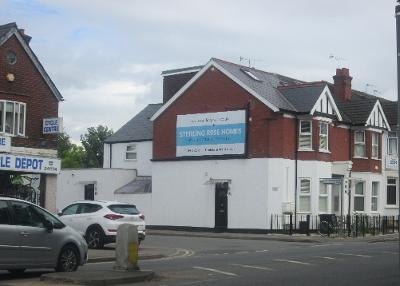 Appearing at Uxbridge Magistrates' Court on Wednesday 11 December, Sterling Rose Investments Limited admitted advertising on the side of its rental flats in Pinner Road, Northwood without planning permission and was fined £10,250. The company, based in Pinner Road, Harrow, was also told to pay £1,163.10 in costs and a £100 victim surcharge.
The court found that the sign was promoting the company's commercial business. In August 2018, the company was ordered by the court to remove the unauthorised advertisement to comply with an enforcement notice issued by the council, but failed to do so. During the same proceedings, Sterling Rose was found guilty of breaching planning regulations and ordered to pay fines and costs totalling £1,300.
The company was also prosecuted in 2017 for placing a self-promotional billboard on the same block of flats. On that occasion, it was fined £100 and ordered to pay £473.50 legal costs plus a £30 victim surcharge. The company subsequently took the billboard down, but later replaced it with the painted advert.
In court last week, the company said the offending mural had now been painted over and it had learned a valuable lesson.
Cllr Keith Burrows, Hillingdon Council's Cabinet Member for Planning, Transportation and Recycling, said: "Despite repeated warnings and a history of prosecution, the company brazenly continued to use one of its buildings to promote itself. This was a clear breach of planning regulations and frankly they deserve the hefty fine. Let this be a warning to others that we won't allow illegal advertising in Hillingdon. No doubt local residents will be pleased to see such an eyesore finally painted over."
Residents can report planning enforcement concerns via the council's website https://hillingdon.gov.uk/doitonline
Page last updated: 20 Dec 2019