Council launches new tool to support Hillingdon businesses
Monday 16 December: Hillingdon businesses are being encouraged to use a free online tool to calculate how much better off they would be by switching to the council's commercial waste and recycling collection service.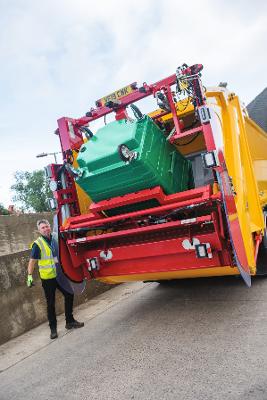 In a few short steps, the business waste calculator provides a quotation and offers potential customers the option to have a follow-up conversation with a member of the commercial waste team to determine their needs.
The calculator is an added function within the council's popular business waste and recycling service, which has continued to grow in recent years.
This cost-effective and efficient collection service offers small and large businesses a flexible and reliable method of disposing of their waste and recycling. The council provides a range of containers for general waste and recycling, from 360-litre to 1,280-litre bins. The charge is based on the amount of waste or recycling collected from the business.
The service offers a range of benefits including competitive prices with no hidden costs; zero waste to landfill - waste is used to power homes within the UK; and an experienced and reliable team to collect rubbish bags and bins.
Cllr Keith Burrows, Hillingdon Council's Cabinet Member for Planning, Transportation and Recycling, said: "The new calculator is a clear and simple tool for prospective businesses to estimate how much our services will cost them. "We are proud to have built up and retained a client base who trust us to collect their waste and recycling for a competitive price. Our commercial waste team works with local businesses to ensure they meet their duty of care obligations. We are committed to sustainability and ensuring that businesses meet their recycling targets, which not only saves them money but supports the local environment and the wellbeing of those who live, work and study in the borough."
Abdul Khan runs West Drayton-based restaurant Zayani. He said: "The council's service came in cheaper than our previous supplier and has remained reasonably priced. I signed up with ease, and I have enjoyed reliable collections with great customer service. I have peace of mind knowing all the paperwork is correct and the added benefit of having the recycling service included. As a busy restaurant, the bin size and weekly collections are perfect for maintaining hygiene standards and keeping pests at bay."
Alongside Hillingdon's excellent business waste and recycling service, the council offers residents a range of recycling services including free, easy-to-use weekly waste and recycling collections, waste and recycling centres, and a free bulky waste collection service.
To find out more about council's business waste and recycling service and to use the calculator, visit www.hillingdon.gov.uk/businesswaste
Page last updated: 16 Dec 2019