Record number of Hillingdon children enjoy space-themed reading challenge
Monday 2 December: A record 10,894 children visited Hillingdon Council's local libraries to take part in this year's national Summer Reading Challenge - ranking the council as the second highest for participation in London.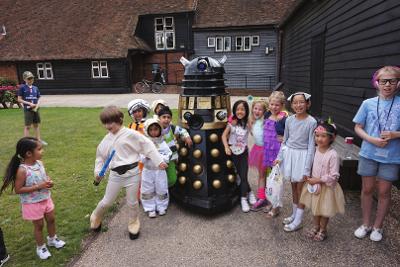 The borough also had the highest number of children - 5,300 - completing the challenge.

The Summer Reading Challenge is organised by the Reading Agency and aims to encourage four to 11-year-olds to visit their local library and read six books of their choice to complete the challenge.

The theme for 2019, Space Chase, marked the 50th anniversary of the moon landings, and the council's collectable cards, known as Starborgs, featured 20 creatures that were fittingly out of this world. This year's cards had added appeal because for the first time residents were able to design them as part of a council-led competition.

Children were given rewards for reading, including monster pencils, alien stickers and flying finger rockets powered by elastic bands. Those who visited on all six occasions were given a certificate and a medal.

To engage with younger readers, the council introduced a mini challenge for under-fours, where they were given a card to collect a special sticker on each visit.

Cllr Richard Lewis, Hillingdon Council's Cabinet Member for Central Services, Culture and Heritage said: "To be in the top two for participation for the whole of London is very good news. The Summer Reading Challenge is now in its 20th year and proves ever popular in our borough, with more children than ever taking part. This means more youngsters improving their reading skills and gaining confidence during their summer break."

The initiative also saw more than 70 events and activities, including a space camp at the Great Barn in Ruislip, where visitors were set challenges while assigned to one of four imaginary spaceships. The Winston Churchill Theatre in Ruislip was transformed into an experimental rocket science facility as part of a theatre show. Other activities were based at libraries and included creative writing, games, and research skills, where children were tasked to use the libraries' non-fiction books to find information.

Hillingdon's 17 libraries are a vital hub for communities of all ages and backgrounds. As part of the council's commitment to maintaining these valuable facilities, the council has commenced a refurbishment project of all libraries, which will improve the experience for residents and visitors.
Page last updated: 04 Dec 2019