The Battle of Britain Bunker wins top award
Friday 25 October: Hillingdon's Battle of Britain Bunker Exhibition and Visitor Centre has won the Best Small Building trophy at the Society for Public Architecture, Construction, Engineering and Surveying (SPACES) national awards.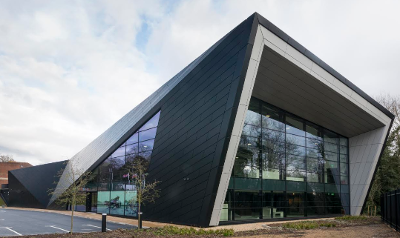 The visitor centre was also named runner up in the overall national Civic Building of the Year category at the awards, which are for public sector organisations.
The ceremony took place at the Penter Hotel in Reading on Thursday 17 October.
Judges were impressed by the modern architecture and quality of the new building, which sits alongside the iconic Grade 1 listed bunker.
The visitor centre was constructed following a £6 million investment from the council to preserve and complement the original 1939 bunker. The new building's design was modelled on the appearance of a high-tech fighter aircraft.
The bunker and state-of-the-art visitor centre provide an education and exhibition space where residents and visitors can learn about the crucial role the bunker played in the air defence of the United Kingdom throughout the Second World War. The bunker was vital in directing RAF operations and was visited by both Winston Churchill and King George VI in 1940.
Cllr Richard Lewis, Hillingdon Council's Cabinet Member for Central Services, Culture and Heritage, said: "We are delighted that the Battle of Britain Bunker Exhibition and Visitor Centre has been honoured with a SPACES award. It is wonderful that the judges recognised this amazing museum and heritage site, which has attracted more than 35,000 visitors since its official opening in 2018 and which provides a great interactive experience for everyone."
The Battle of Britain Bunker and Visitor Centre has a five-star rating on TripAdvisor, with 97 percent of users rating it either 'excellent' or 'very good' (based on 500 comments).
The site is open from 10am to 4.30pm. Admission is free for Hillingdon residents attending with a HillingdonFirst card, under-18s, and Defence Discount Service cardholders. The cost is £4 for adults (£7 including a bunker tour) and £3 for over-65s (£5 including a bunker tour). The site is located in Wren Avenue, Uxbridge, UB10 0RN.
Find out more at battleofbritainbunker.co.uk
Page last updated: 25 Oct 2019