Hillingdon Council triumphs at Kids Count Award in Parliament
Tuesday 22 October: Hillingdon's Children in Care Council was honoured at a prestigious annual awards ceremony at the House of Commons that celebrates the achievements of young people in the UK.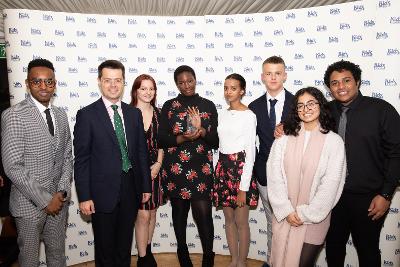 The Children's Rights and Participation Team, which sits within Children's Services at Hillingdon Council, and eight representatives of Step Up (12 to 15 year-olds) and Stepping Out (aged 16 and over), attended the Kids Count Awards ceremony on Monday 14 October.
The groups were well-deserved winners of the 'Inspire the House' best community group award, which was presented to them by James Brokenshire MP.
Step Up and Stepping Out represent the views of children in care across the borough. Through their activity they raise the profile of the needs and rights of children in care and care leavers.

Hillingdon's nomination highlighted the key role that young people play in developing services. In the past year, young people trained 127 multi-agency staff in understanding some of the difficulties they faced. They wrote, produced, animated and voiced characters explaining what it was like to be a young person in care, called Walking in Our Shoes.
Helia, aged 20, who was one of the eight representatives, said: "The work we do is really important to help other young people in Hillingdon and we are really happy that children in care and care leavers were recognised at these awards. Thank you for seeing the potential in young people in Hillingdon who work hard and take their time to make a difference."
Cllr David Simmonds, Hillingdon Council's Deputy Leader and Cabinet Member for Education and Children's Services, said: "This is a fantastic achievement. By working with young people, they are inspiring us to enhance our services. For example, as part of a Young Inspectors project, representatives from the Children in Care Council visited residential children's homes and made recommendations to the home managers. Young people are co-chairing and regularly presenting at our Corporate Parenting Panel and often meeting with senior management to participate in recruitment and consultations.
"Regardless of background and circumstances, we will continue to support children in Hillingdon and encourage them to achieve their potential."
Kids Count is a national charity that gives young people a voice and a brighter future. Each year the Kids Count Inspiration Awards Ceremony is held on the Terrace at the House of Commons. Now in its 12th year, the prestigious event provides the winners with an opportunity to visit the House, meet Ministers, MPs and supporters.
Page last updated: 22 Oct 2019