Council's adolescents team shortlisted for two top awards
Tuesday 15 October: Hillingdon Council's adolescents team has been shortlisted for two prestigious national awards.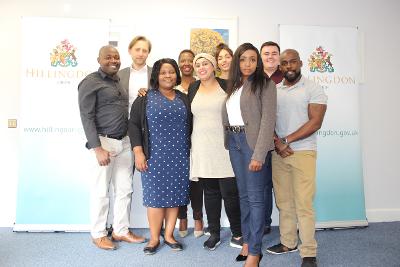 The team has been recognised in the 'Care' category for the Guardian Public Service Awards. It has also been selected as a finalist for 'Team of the Year, Children's Services' in the Social Worker of the Year Awards.
Both awards recognise the adolescents team's outstanding social work, which is having a positive impact on vulnerable young people and their families.
The Guardian awards showcase projects, teams or individuals working in the public, private or voluntary sectors, making a difference to people's lives. The second awards, organised by the Social Work Awards charity, aims to improve public awareness and understanding of social work by showing the positive impact of social workers in the wide range of roles they undertake.
The adolescents team has adopted forward-thinking intervention techniques to support and empower young people to stay safe, reduce conflict and remain in their home.
They work with children from 12 years old who are at risk of criminal or sexual exploitation, going missing from home, serious youth violence or family breakdown. Their innovative approach gives young people more choice in their care, allows them to select their own social worker, offers increased support and education to parents, and gives social workers greater control over how to spend their budgets to resolve issues and support the young person's needs.
These measures are making a difference, resulting in reduced risk-taking behaviour, increased school and college attendance, more engagement with social workers, less conflict in the home and fewer young people being taken into care.
Cllr David Simmonds, Hillingdon Council's Cabinet Member for Education and Children's Services said: "We are delighted that our adolescents team is being honoured twice in a row for the tremendous and important work being carried out to safeguard young people.
"This is people-driven rather than system-led and we are seeing the benefits of looking at things differently. Ultimately, this is helping vulnerable young people and their families get the correct help and support they deserve. We hope that the judges in both cases see the positive outcomes we are achieving as a beacon of good practice and decide they are worthy of an award."
The Guardian Public Service Awards special ceremony takes place on 26 November. The national Social Worker of the Year Awards take place on 29 November at the Royal Lancaster Hotel, west London.
Page last updated: 15 Oct 2019