Hillingdon's call to nature lovers
Wednesday 18 September: Residents are being invited to help at two community planting days this month to bring colour and biodiversity to Elephant Park, Hillingdon.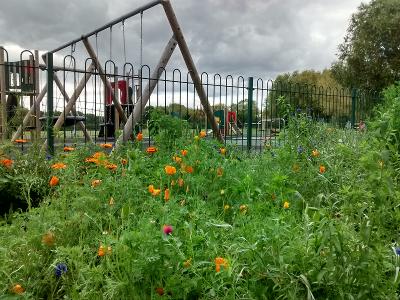 The events will take place on Tuesday 24 and Saturday 28 September and volunteers can help by planting a variety of wetland plants and sowing wildflower seeds in time to bloom next spring/summer.
The council is carrying out works to the park to create new wetland habitats to improve the area, protect the environment and encourage wildlife to the site. Ponds and ditches will provide a new and important wetland area for amphibians, such as newts, frogs and toads together with aquatic invertebrates, including snails and water spiders. The scheme will also alleviate the risk of flooding in the area.
The 250 wetland plants include marsh marigolds, purple loosestrifes, forget-me-nots and yellow flags as well as native wildflower seeds.
The improvement works follows a £40,000 Community Green Space grant awarded by the Mayor of London in January. This funding has been matched by the council.
Councillor Jonathan Bianco, Hillingdon Council Cabinet Member for Finance, Property, and Business Services said: "This is a wonderful opportunity for volunteers to help create a thriving environment at Elephant Park for wildlife and help minimise the impact on those living in the area. It's an important project which I hope will get many people involved. You don't have to be green-fingered, just care about the environment."
The planting days will take part in the north area of the park (near the outdoor gym) between 10am to 1pm. Volunteers should wear suitable clothing and footwear. Gardening equipment will be provided.
Page last updated: 11 Oct 2019