Council introduces licence for professional dog walkers
Monday 16 September: A new licensing scheme for professional dog walkers is being introduced by Hillingdon Council to make the borough's parks more pleasant for everyone who uses them.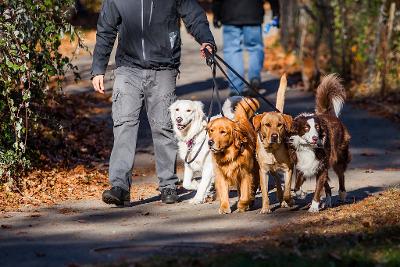 People who are paid to walk dogs will need a licence to do so and will be restricted to walking six animals at a time in Hillingdon's parks and open spaces. Those operating without a licence could face a fine of up to £100.
The licensing scheme will help maintain the environment and support the upkeep of the parks and people's enjoyment of them through the effective management of commercial dog walking. The walkers will also have to sign up to a code of conduct to ensure they comply with health and safety regulations. This will benefit residents who would like to see the practice restricted and ensure the welfare of the dogs.
Councillor Jonathan Bianco, Hillingdon Council's Cabinet Member for Finance, Property, and Business Services said: "The borough has lots of wonderful parks and open spaces for everyone to enjoy. Our residents tell us they love our parks but have also shared their concerns about there being too many professional dog walkers.
"Introducing this licensing scheme will help ensure the welfare of the dogs, guarantee that professional dog walkers meet all the necessary requirements, protect our environment and make sure everyone using our parks has an enjoyable experience."
To apply for an annual Professional Dog Walking Licence, visit www.hillingdon.gov.uk/dogwalking
The licence fee per professional walker is £175 (residents) and £250 (non residents). Professional dog walkers have until Wednesday 30 October to apply.
Page last updated: 11 Oct 2019