Council introduces tougher drone rules ahead of planned protests
Thursday 12 September: Hillingdon Council has today (Thursday 12 September) sent a strong message to anyone caught flying an unauthorised drone of any size near Heathrow airport or in any of the borough's parks and open spaces that they will face tough penalties.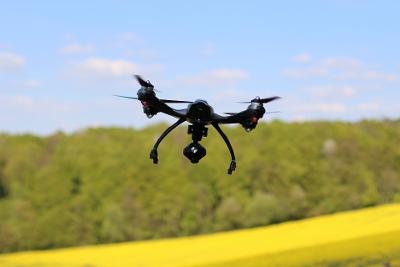 The council has brought forward a robust new local drone policy ahead of planned protests by Heathrow Pause at the airport tomorrow.

The new measures, effective immediately, authorise £100 on-the-spot fines for flying unauthorised drones or small unmanned aircraft (SUAs) in parks and open spaces. A failure to pay could result in a £1,000 penalty.

Hillingdon is believed to be the first council to adopt a 'total airspace' approach to drones.

The borough is unique, with 74% of its airspace already covered by the national drone 'no-fly' zones around airfields. These include Heathrow Airport, RAF Northolt and Denham Aerodrome, where it is illegal to fly any drone of any mass, including toys, without explicit permission. Endangering any aircraft in these areas can result in police action.

While the council recognises the benefits of drones for accredited activity, the growth in drone use combined with the breadth of airspace, air traffic volume and lower flying altitudes across large swathes of Hillingdon, raises the risk of a major aircraft accident.

The council's policy, approved today by the Leader of the Council, Councillor Ray Puddifoot, puts new restrictions on drone use on public land outside existing 'no fly' zones.

The measures also:
Prohibit the use of drones or SUAs for any filming on council land, unless given express permission in highly exceptional circumstances.
Prohibit the commercial use of drones or SUAs on council land, unless it relates to essential public or industrial safety use.
Permit local model flying clubs to use council land, with permission.
Allow special exemptions over council land for essential government and emergency service use.
Allow the council to impose restrictions on other land of significance leased or contracted by the council, e.g. school playing fields and sporting areas.
Require property developers to be advised on flight restriction zones as part of the planning application process.
On private land, any recreational use of drones, including model aircraft, outside the restricted zones around airports or aerodromes is still permitted by CAA guidelines. However, users must follow the national Drone Code and primarily be aware of congested areas. Additionally, from 30 November, a new drone registration scheme comes into force.
Page last updated: 11 Oct 2019