Battle of Britain Day at the bunker
Thursday 12 September: Residents and visitors are being invited to commemorate the 79th anniversary of the Battle of Britain Day with a day of events and family activities on Sunday 15 September at the Battle of Britain Bunker and Exhibition and Visitor Centre in Uxbridge.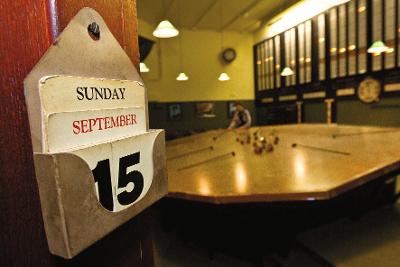 The historic Hillingdon Council-owned venue, which was visited by Winston Churchill during the Second World War, will be the setting for a series of special talks, a film screening and activities.
Visitors will be able to see a special display by the Royal Observer Corp Association and watch a screening at 6pm of the film Spitfire, which tells the story of the aeroplane and the pilots who helped win the Second World War. The film screening costs £5 to attend. As part of the family activities, children will be able to make binoculars to spot aeroplanes.

There will also be two free lectures. Author Peter Sikora, an aviation researcher and historian specialising in the history of the Polish Air Force between 1918 and 1946, will give a presentation at 12 noon. Howard Cook, a military historian and display pilot, will give a lecture at 4.30pm on the Hawker Hurricane and its role in the war. Places at the talks and the film screening can be booked at www.hillingdontheatres.uk.

A wreath laying ceremony, which is open to the public, will take place at 10am in the site's memorial garden. The Mayor will be in attendance, alongside representatives from RAF Northolt, Friends of No 11 Group, and the Royal Air Forces Association. There will be tours of the underground bunker throughout the day - at 10.15am, 11.30am, 12.45pm, 2pm and 3.15pm.

Cllr Richard Lewis, Hillingdon Council's Cabinet Member for Central Services, Culture and Heritage, said: "We are proud to host this event to honour this historic moment. Residents and visitors will be able to experience a range of activities which goes some way to remembering the large-scale battle fought in the skies above London 79 years ago."

The Battle of Britain Bunker and Exhibition and Visitor Centre (Wren Avenue, Uxbridge, UB10 0RN) is open from 10am to 4.30pm. Admission is free for Hillingdon residents attending with a HillingdonFirst card, under-18s and Defence Discount Service cardholders. The cost is £4 for adults (£7 including a bunker tour) and £3 for over-65s (£5 including a bunker tour).
To find out more about the Battle of Britain Bunker visit battleofbritainbunker.co.uk.
Page last updated: 11 Oct 2019