Battle of Britain Bunker Bank Holiday events
Monday 19 August: Residents can commemorate the summer before the outbreak of the Second World War at the Battle of Britain Bunker this bank holiday weekend.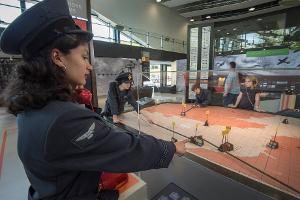 There will be a three-day event on Saturday 24, Sunday 25 and Monday 26 August where visitors of all ages and families can discover more about how, 80 years ago, the nation prepared for war, which started September 1939.
Visitors of all ages and families can learn about rationing, what life was like as an evacuee and how people became local Air Raid Precaution (ARP) wardens. To get the full experience, there will be the chance to take a closer look at the bunker's collection, which will be presented for the public to handle over the course of the weekend. Objects include 1940s clothing, homefront items such as ration booklets, ration knitting guides and a 1940s telephone. There will also be a range of entertainment, such as live swing music, dancing and special treats from the cafe to complete the nostalgic weekend.
There is a different programme of exciting activities each day.
Saturday
Uxbridge Classic Vehicle Club - View classic 1930s and 40s cars. 10am to 4pm
Object Handling - Take a closer look at our collection 10am to 2pm
Meet a spiv and a housewife 11am to 3pm

Sunday
Meet a Spitfire pilot and ARP Warden 11am to 3pm
Live swing music 12 to 2pm

Monday
Evacuee Experience - Learn more about becoming an evacuee. Experience what it was like to be a child in the war 10am to 4pm
Live swing music in the afternoon
Meet a spiv and a housewife 11am to 3pm

Cllr Richard Lewis, Cabinet Member for Central Services, Culture and Heritage said: "This is an entertaining and informative way to spend the bank holiday weekend, getting involved in a remarkable piece of history. There's lots to do and see, so come along and join in."
The Battle of Britain Bunker will be open from 10am to 4.30pm each day. There are five public tours a day: 10.15am, 11.30am, 12.45pm, 14.00pm and 15.15pm. Wren Ave, Uxbridge UB10 0BE.
For more information, visit www.battleofbritainbunker.co.uk
Page last updated: 11 Oct 2019