Council wins big for work to protect the public
Tuesday 2 July: Hillingdon Council's Trading Standards team is celebrating after winning a national award for its work to prevent unsafe consumer products entering the retail market via Heathrow Airport.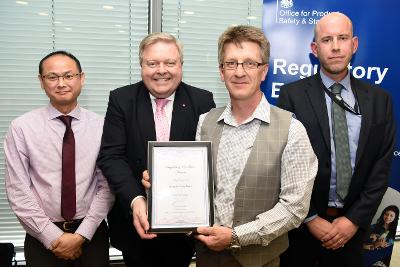 The team, which routinely inspects cargo consignments at the airport and removes any products that do not meet British and European safety standards, were one of eleven finalists in the Product Safety Category of the prestigious Regulatory Excellence Awards. Other finalists in this category included Amazon UK, the British Standards Institution and the British Toy and Hobby Association, as well as other local authority Trading Standards teams and regulatory organisations.

Hillingdon Council's Trading Standards team won the 'Highly Commended' award for their work at Heathrow Airport.

The winners were announced at the offices of Gowling WLG in London on Thursday 20 June.

As one of the UK's 14 port authorities, Hillingdon Council is responsible for inspecting cargo at Heathrow Airport. A typical inspection will see trading standards officers checking a wide variety of goods, including toys, cosmetics, jewellery and electrical items. The products are destined for retail outlets both online and high street shops across the UK and Europe.

Cllr Douglas Mills, Cabinet Member for Community, Commerce and Regeneration, said: "Our trading standards team's daily cargo checks at Heathrow play a hugely important role in protecting consumers across the country and further afield from the importation of unsafe goods. Without such checks, people's lives would potentially be at risk. So, I am immensely proud that the team has been recognised at a national level and I congratulate them on their ongoing efforts."

Graham Russell, Chief Executive of the Office of Product Safety and Standards, said: "Our judges found the entries to be very diverse in scope and of very high quality. They wanted to recognise the innovation and sheer hard work being done by regulatory teams in an increasingly complex and challenging world.

"All the finalists can be proud of what they have achieved, and we will ensure that their examples of best practice are shared; and prove inspirational to others."
Page last updated: 11 Oct 2019