Don't miss Hayes Community Family Fun Day this weekend
Thursday 4 July: Hillingdon Council's Hayes Community Family Fun Day returns this weekend.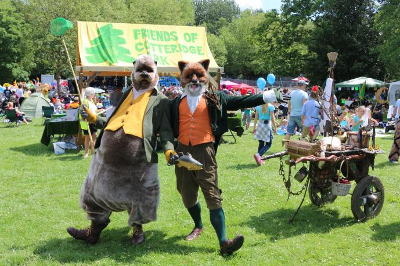 The free event, which takes place at Barra Hall Park, Hayes, on Saturday 6 July between 11am and 4pm, celebrates Hayes and its diverse community.
With a programme offering an assortment of family-oriented entertainment, it is sure to be a jam-packed, fun afternoon for all ages.
Visitors will have the chance to meet Otto the Otter and Teddy the Fox, as they wheel a wooden cart laden with ancient magic, props and relics from the greatest fairy tales.
Nazreddin the Camel and Prince Amir, his trusty travelling companion, will also be in attendance and set to amaze the crowds, while the Community Stage will be home to BrassBound, a funky upbeat brass band.
Continuing the musical theme, younger attendees will be kept entertained by the Verona Chard Musical Balloon Band shows taking place in the amphitheatre, and Jay Kumar and Dance Asia will be sure to have residents dancing around the park with their Desi style dance display.
The ever-popular Sports Zone with its zorb racing and assault course is bound to please all those budding athletes and the Children's Zone will offer a range of activities and free arts and crafts.
Additionally, Bikespiration, the council's annual cycling event, will be running a disability cycling session throughout the day; offering people the chance to try out specially-adapted cycles, which may include recumbents, trikes, wheelchair transporters, wheelchair tandems, handcycles, companion cycles, tricycles and steer-from-the-rear tandems.
For those wanting to pick up a bargain or learn more about the local area and what it can offer, there will be the opportunity to speak with members from local community and charitable organisations at the community stalls area.
Cllr Richard Lewis, Hillingdon Council's Cabinet Member for Central Services, Culture and Heritage, said: "Last year's fun day was a great success, with thousands of people flocking to Barra Hall Park to enjoy the free entertainment and activities on offer. This event continues to celebrate the diverse cultures and communities of Hayes and we hope that Hillingdon residents and visitors alike will come along to the park to join in the celebrations and enjoy the fantastic atmosphere."
For more information, visit www.hillingdon.gov.uk/hayes-fun-day
Page last updated: 11 Oct 2019