Mayor of Hillingdon launches Charity Appeal
Thursday 11 July: The Mayor of Hillingdon, Cllr David Yarrow, launched his Charity Appeal for 2019/20 at an event at the Civic Centre, Uxbridge on Wednesday 10 July.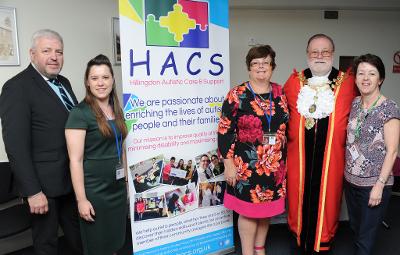 This year's Mayor's Charity Appeal includes Hillingdon Autistic Care and Support (HACS), which provides support to people with autism, their families and professionals, and Hillingdon Brain Tumour and Injury Support Group, which gives support to those in the borough and surrounding areas affected by any type of brain tumour or brain injury and raises awareness.

The event was attended by more than 100 guests and representatives from each charity. The organisations delivered moving and informative presentations about their worthwhile causes.
Guests were also treated to a performance of live music from the Brunel Barbershop Singers, who arrived straight from their graduation ceremony at Brunel University.

A raffle offering donated prizes raised £325. There were also donations from Uxbridge Amblers Walking Football Club of £250 and another £250 from Hillingdon Chamber of Commerce. The total raised on the night was £825, getting the charity appeal off to a great start.
Councillor David Yarrow, the Mayor of Hillingdon, said: "I feel sure that residents will agree that the two charities I have selected do wonderful work within the community and are very worthwhile causes.
"HACS is a well established charity and Hillingdon Brain Tumour and Injury Support Group is a relatively new charity. Both are doing excellent work for their causes.
"I am keen to raise as much money as possible and ask everyone to donate what they can."

Donations can be made to the Mayor of Hillingdon's Charitable Trust at www.hillingdon.gov.uk/mayorcharity

Throughout the year, the Mayor will organise events, such as charity quiz nights, to help raise funds for his two chosen charities.

If you would like the Mayor to visit your organisation or event, please call 01895 250763 or email mayor@hillingdon.gov.uk
Page last updated: 11 Oct 2019