Hillingdon's Libraries host this year's space themed Summer Reading Challenge
Friday 5 July: Children aged from four to 11 are being encouraged to go on an out-of-this-world adventure this summer, with the annual Summer Reading Challenge returning to Hillingdon from Saturday 6 July.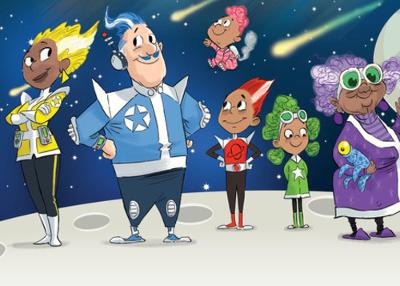 The challenge, which encourages children to visit their local library and pick up rewards for reading, will run until mid September. Last year, the borough had the highest completion rate in London for the challenge.

This year's theme is Space Chase, inspired by the 50th anniversary of the first moon landing. Young readers will join a super space family, called The Rockets, for a thrilling mission to track down books and mischievous aliens!

Children will also have the chance to collect Hillingdon's unique top trumps-style Starborg cards.

In March, the council gave budding Hillingdon artists of all ages the opportunity to help to create some new space related Starborg characters for this year's pack of 20 cards.

After receiving a range of impressive entries, 13 designers were chosen to be included by the council's Libraries Service.

Artists of all ages, included: Tillie Rae Norris, 10; Harkiran Bhandol; Gerry Shirran; Aimee Langford; Rosie Bee Kim, 11; Rian Shah, 8; Dilhan Singh Derhaley, 10; Onkardeep Singh MBE; James and Jacob Henderson, 8; Zoya Qazi, 12; and Roberta Barreto, 14.

Cllr Richard Lewis, Hillingdon Council's Cabinet Member for Central Services, Culture and Heritage, said: "The Starborg card design competition was a great way to begin this year's ever-popular Summer Reading Challenge. It is fantastic to see how creative some of our residents are and a range of designs were submitted by residents from across the borough."

Libraries across the borough will also be hosting a range of events, including The Wimpy Kid Show on Monday 5 August at 3pm at the Winston Churchill Theatre (£2 a ticket); a free Space Camp for budding astronauts on Thursday 8 August at the Great Barn, Manor Farm at 10am; and Science Museum-Mission to Mars workshops on Tuesday 13 August at 10am and 11.30am at the Winston Churchill Theatre (£2 a ticket).

Cllr Lewis added: "Last year's Summer Reading Challenge proved to be more popular than ever in Hillingdon, with more than 9,000 children taking part and more than 4,800 finishing the whole challenge. It is a fantastic way to support children's reading throughout the summer holidays, ensuring they do not fall behind when they return to school. So, I encourage families to sign up for free at their local library from 6 July and make reading for pleasure a big part of the summer."

For more information, visit www.hillingdon.gov.uk/summerreading.
Page last updated: 11 Oct 2019