Council to give more children access to music lessons
Monday 15 July: Hillingdon Council has announced plans to expand the reach of its music service to give more children the opportunity to participate in music.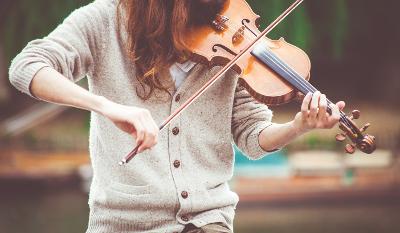 As part of a review of its service, launched last week, the council is proposing to retain all existing services, including small group lessons, regular one-to-one tutoring and its popular music school, orchestras, bands and ensembles. In addition, it wants to offer more children in more schools the chance to get involved in music through whole class ensemble tuition, group tuition, singing and popular music.
The proposals, which involve streamlining management and an increase in the overall budget for peripatetic music teachers, reflect a desire to make music lessons even more accessible to children across the borough, plus the need to meet funding criteria from the Department for Education (DfE).
The DfE, which funds a significant percentage of Hillingdon's music service through Arts Council England, is asking all music hubs to provide music lessons to more students across all schools, particularly to students whose parents would struggle with affordability.
In the past three years, thousands of children who were unable to participate previously have joined the Hillingdon music hub programme through whole class lessons and concerts, newly commissioned singing pieces, a choir festival and projects in schools for children with special educational needs.
This summer, a record number of Year 3 students have expressed interest in starting lessons or attended try-outs for music lessons. Another year with a full programme of concerts has been planned for 2020 and beyond.
Councillor David Simmonds, Cabinet Member for Education and Children's Services, said: "We currently offer music lessons to more than 1,500 school-age children, with more than 200 of those receiving one-to-one tutoring, and around 400 attend our music school.
"While we can be hugely proud of what we've achieved so far, we need to ensure we're delivering an efficient service that benefits the maximum number of children. And we want to share with as many Hillingdon children as possible the magic of picking up an instrument for the first time and making music.
"There is no reduction in the music service budget; these changes are to ensure the most efficient use of funds available.
"These proposals will give more children the opportunity to sing or play an instrument, and they are necessary to secure the funding we need to protect our much-valued music service for the foreseeable future."
The council is consulting employees in the music service on the proposed changes. Employees will have until 12 September to provide their feedback before any final decisions are made.
The council will publicise the results of the consultation in due course.
Parents of children in Year 3 or above who would like their child to receive music lessons from September 2019 are invited to see what options are currently available at www.hillingdon.gov.uk/startmusic
If you would like to find out more about your child joining one of our ensembles or choirs, visit www.hillingdon.gov.uk/musicschool
Page last updated: 11 Oct 2019