Hillingdon flies more Green Flags
Friday 19 July: Hillingdon is celebrating its title of the greenest borough in London after being awarded five more Green Flags - bringing its new tally to 55.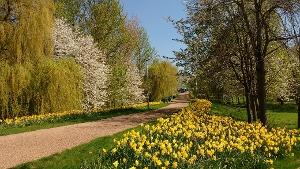 In addition to the 50 awarded last year (which includes a joint application with Stockley Business Park), five more sites in the capital's second largest borough, situated in west London, have been given Green Flag Awards - the most held for parks and open spaces nationally and internationally.
The new successful sites are: Dowding Park, Harmondsworth Open Space, Stafford Road Open Space, Pole Hill Open Space and Sipson Recreation Ground.
The Green Flag Award is the benchmark national standard for publicly accessible parks, and recognises and rewards well managed green spaces.
The latest additions were announced at the Green Flag Awards ceremony at the Sheraton Skyline Heathrow Airport Hotel on 17 July.
Hillingdon is one of the greenest boroughs in London, with 1,800 acres of countryside, featuring canals, rivers, parks, open spaces and woodland including London's first National Nature Reserve, Ruislip Woods.
The borough's latest winners are among a record breaking 1,970 UK parks and green spaces and 131 in 13 other countries around the world that received a prestigious Green Flag Award.
Councillor Jonathan Bianco, Hillingdon Council's Cabinet Member for Finance, Property and Business Services said: "This is great news for the borough. We're absolutely delighted to receive these accolades for our parks and green spaces. And we're even prouder that the awards ceremony this year has taken place in our borough.
"Green Flags are the highest honour a park or open space can receive and they require a great deal of time and hard work to achieve. We have more than 200 green spaces across the borough and I would like to thank all the community groups, volunteers and council staff who continue to keep our borough looking so welcoming and attractive."
To be awarded a Green Flag, parks and green spaces must meet stringent criteria, proving themselves to be welcoming, community-orientated, friendly to the environment, well managed and clean.
The Green Flag Awards are judged by a group of environmental charities including Keep Britain Tidy.
For more information on the awards and a full list of sites in Hillingdon, please visit www.hillingdon.gov.uk/greenspaces.
Page last updated: 11 Oct 2019