Commemorative boards marking the contribution of the Polish Navy during World War Two unveiled
Friday 28 June: A special ceremony at the Polish Air Force Memorial in South Ruislip unveiled two interpretation boards in the remembrance garden.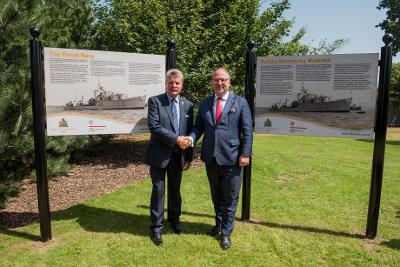 Cllr Ray Puddifoot, Leader of Hillingdon Council, His Excellency Professor Arkady Rzegocki, Ambassador of the Republic of Poland to the Court of St James's, and the Mayor of Hillingdon, Cllr David Yarrow, laid wreaths at the memorial before unveiling two interpretation boards (one in English and one in Polish) in the remembrance garden. They were joined by other dignitaries from the Embassy of the Republic of Poland, military personnel, representatives from the Polish Airmen's Association, the Polish Air Force Memorial Committee and local councillors.

The interpretation boards tell the story of the Anglo-Polish agreement, signed on 18 November 1939, which led to a Polish naval detachment fighting alongside the Royal Navy and allies throughout the World War Two.

Cllr Puddifoot said: "The Polish Navy's contribution to the war effort cannot be underestimated. They were there from the outset, initially sending three destroyers to join the Royal Navy, and they continued to fight alongside allied forces until the end of the conflict. Without their bravery, the outcome may have been very different and many more lives could have been lost.

"We remain incredibly proud of our association with Poland and the Polish community and we are delighted to be honouring their naval personnel today. Our hope is that their stories of immense sacrifice and valour, which are brought to life on these interpretation boards, will be remembered for generations to come."

His Excellency Professor Arkady Rzegocki said: "It is a great honour to unveil the commemorative boards dedicated to the Polish Navy next to what is one of the most important monuments in the UK marking the Polish Second World War effort.

"During the war, the Polish Navy fought alongside the allied navies in numerous places, including Norway, the North Sea, the Atlantic and the Mediterranean. It played an important, yet little known, role in the D-Day landings, providing artillery support for onshore units and saving the lives of thousands of British soldiers storming the beaches of Normandy, while its heroic defence of Cowes on the Isle of Wight from German bombers in May 1942 saved the town from near destruction.

"Being unveiled in the remembrance garden at the Polish Air Force Memorial, the boards find a home near to a monument remembering another great chapter in the Polish war history - the contribution of Polish pilots serving in the Royal Air Force during the Second World War. Together, they create a fitting tribute to the wider effort of the Polish soldiers, sailors, and airmen and airwomen who fought since day one of the Second World War, were present on nearly every front of the war and constituted the fourth largest allied force of the war. May their memory be celebrated forever."
Page last updated: 28 Jun 2019