Council prosecutes after rat droppings found at Hayes takeaway
Wednesday 19 June: The former owner of Chixy's takeaway in Botwell Lane Hayes has been ordered to undertake 120 hours of unpaid work after admitting several breaches of food hygiene regulations.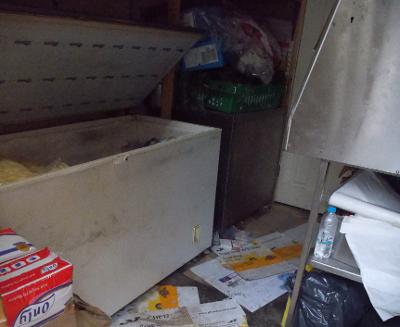 On Tuesday 4 June 2019, Isleworth Crown Court heard how Mohammad Usman Riaz, the former owner and operator of Chixy's, had a history of poor compliance with food hygiene regulations.
Officers from Hillingdon Council originally visited the takeaway in November 2017 following a customer's allegations of food poisoning.They found a hole in a wall allowing rats into the kitchen, with rat droppings inside the kitchen and throughout food preparation areas.
Riaz closed the takeaway temporarily in November 2017 to address the problems. Council officers then made an unannounced visit in May 2018. They found no improvements to Riaz's approach to food safety and hygiene.
The court heard that staff at Chixy's had not received food hygiene training and were seen handling waste material before directly handling and serving cooked food, without washing their hands.
Cooked chicken was stored at room temperature, and raw burgers and cooked food were stored together in the same fridge. Food had also been placed on the floor in the outside yard where waste was being stored.
The staff toilet opened directly onto the room where food was being handled, and effluent was seen leaking from the toilet waste pipe on the walkway between the preparation room and the cold room.
The judge felt that the case was so serious that a fine was not appropriate, and did not accept that it was simply a case of poor management as advanced by Riaz's defence. Given the number of breaches the judge imposed a 12 month Community Order with 120 hours unpaid work for each of the seven offences to run concurrently. Riaz has also been ordered to pay a victim surcharge and £3,000 towards the council's costs.
Councillor Douglas Mills, Hillingdon Council's Cabinet Member for Community, Commerce and Regeneratio,n said: "Given the appalling disregard for public health shown by Riaz and his refusal to accept responsibility, we were left with no alternative but to take legal action.
"Rather than accept the help and support offered by our officers, Riaz instead claimed allegations against his business were exaggerated. The sentence handed down shows the judge did not agree with him. I hope this sends a clear message to other businesses that we simply will not tolerate those that put our residents' health at risk."
Hillingdon Council regularly makes unannounced inspections of businesses to assess food hygiene standards. Food hygiene ratings for businesses can be found on The Food Standards Agency website: ratings.food.gov.uk
Page last updated: 03 Jul 2019