Duvets recycled into cosy bedding
Thursday 13 June: Hillingdon Council's waste and recycling team donated around 1,000 duvets to a local animal charity to recycle as bedding this week, as part of an annual joint initiative.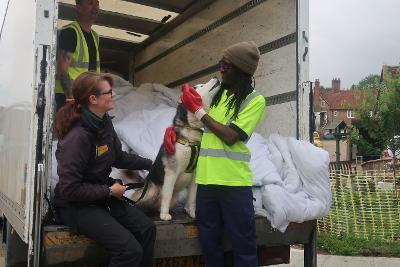 The team collected the duvets on Tuesday 11 June, which were no longer needed by students at Brunel University at the end of the academic year, and delivered them from the Uxbridge campus to their well-deserved new home at the Dogs Trust, Harefield.
As council employees unloaded the donated duvets they were met by one of the Dog Trust's residents, Bluey the Husky, who climbed into the van to be stroked and investigate its future bedding.
Cllr Keith Burrows, Hillingdon Council's Cabinet Member for Planning, Transportation and Recycling, said: "The council, Brunel University and the Dogs Trust have worked in partnership for a number of years to carry out this effective recycling initiative which diverts these items from going to landfill and gives dogs a cosy bed to sleep in.
"If you have duvet and pillows that you don't need, please avoid putting these out in your general waste and consider giving them to a local animal charity, as they are often looking for bedding."
Richard Moore, Rehoming Centre Manager at Dogs Trust, Harefield, said: "We always appreciate this amazing donation from Hillingdon Council. The duvets will provide lovely comfy beds for the dogs at the centre, and helps to enrich their environment while they wait for a new home. The enormous pile of duvets will support the centre for many months and make a lot of dogs very happy."
Hillingdon Council provides residents with free, easy-to-use weekly waste and recycling collections for dry mixed recycling, general waste, food waste, textile recycling and garden waste. The council also offers a bulky waste service which is available to all residents free of charge.
For more information on recycling in Hillingdon, visit www.hillingdon.gov.uk/rubbishandrecycling
Page last updated: 14 Jun 2019