Raising awareness in Dementia Action Week
Friday 31 May: To mark this year's Dementia Action Week (Monday 20 to Sunday 26 May 2019), Hillingdon Council organised a varied roster of activities, engaging with businesses and residents alike in the borough last week.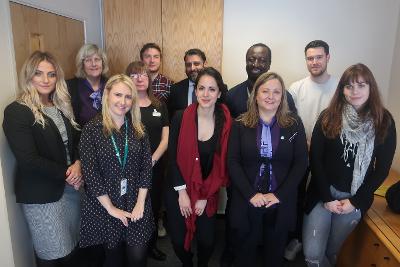 The council teamed up with the UK's leading dementia support and research charity, Alzheimer's Society, to deliver retail-specific dementia training to staff from the Uxbridge branches of Decathlon, NatWest, TSB Bank, Marks & Spencer and Topshop at the Pavilions shopping centre's management offices.
The training provided guidance on spotting the potential signs of a person with dementia, to help them and their colleagues improve support to customers visiting their stores.
The council's sport and physical activity team were very impressed by the wide-ranging businesses who wanted to be involved, and while their experiences and awareness of the condition widely differed, everyone who took part in the training was extremely engaged and empathetic throughout the interactive session.
Kumar Bhalla, Senior Manager at TSB Bank, said: "The session was very engaging. Often training like this happens online, but it was great to learn about this in a practical and interactive way.
"I previously had no knowledge of dementia, but I'm planning to share what I have learnt with my colleagues and run a session at our next morning meeting."
Later in the week, the council brought one of Uxbridge Library's popular Dementia Coffee Morning activities, a seated exercise class, to the Decathlon store at intu shopping centre. Ten participants attended the 45 minute session, which was thoroughly enjoyed by all.
Marcos Canada, Store Leader at Decathlon, said: "We are really proud to be able to support Dementia Action Week, and hope to get involved in more community activities in the future."
Additionally, staff from the Alzheimer's Society had stands in the Pavilions and NatWest in intu, where they were able to answer questions from residents, as well as offer details on dementia support and activities in Hillingdon.
Cllr Phillip Corthorne Cabinet Member for Social Services, Housing, Health and Wellbeing, said: "It is estimated that 2,500 Hilingdon residents are currently living with dementia. We are committed to supporting the Alzheimer's Society and Dementia Action Week by engaging with local businesses and the wider community to raise awareness about the condition, so people know what support is available to them in Hillingdon."
For more information about support in Hillingdon, visit www.hillingdon.gov.uk/dementia.
Page last updated: 05 Jun 2019