Village Green receives permanent protection in honour of those who died in the Great War
Tuesday 19 February: A ceremony was held on Harmondsworth Village Green on Thursday 14 February to celebrate the site's new Centenary Field in Trust status.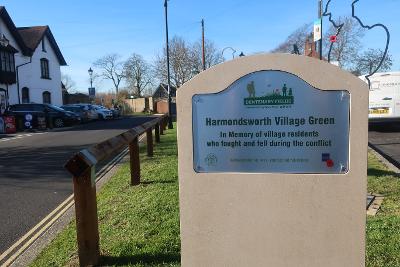 A plinth, highlighting the designation, was unveiled by the Mayor of Hillingdon, Cllr John Morgan and Leader of the Council, Cllr Ray Puddifoot.
The dedication means that the green space will be protected for future generations in memory of those from the village who fought and lost their lives in World War One. The village's war memorial is adjacent to the green in St Mary's Church.
In 2014, the council first applied to take part in the Centenary Fields in Trust Programme, which was led by the Royal British Legion and the national charity Fields in Trust, to commemorate 100 years since the start of World War One.
Leader of Hillingdon Council, Cllr Ray Puddifoot, said: "In Hillingdon we have many war memorials, parks and green spaces with a connection to World War One. Most were established by local communities immediately after the war in memory of their local men who had given their lives. In the villages of Harmondsworth and nearby Sipson 105 men died; we are proud to honour all those who made that ultimate sacrifice, and it is right that these sites are protected. So I am honoured to join Harmondsworth's local community as we commemorate and remember those sacrifices, and celebrate the fact that this is now a protected green space."
The Centenary Fields project aims to protect in perpetuity memorial parks and green spaces across the UK to honour the millions who lost their lives in World War One. Hillingdon became the first borough in London to dedicate a green space as a Centenary Field when Harefield Village Green received its designation in November 2014.
Last year the council once again applied to take part in the programme to mark 100 years since the end of World War One, and Harmondsworth Village Green was recognised as a Centenary Field in November.
Page last updated: 05 Jun 2019