Budding artists invited to design next-generation Starborgs
Thursday 21 February: Hillingdon Council is calling on residents with artistic talent to get involved in a special design project for this year's Summer Reading Challenge.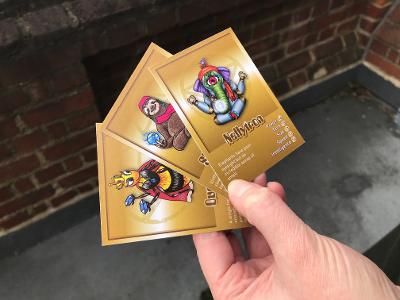 The annual challenge, which aims to keep children reading throughout the school summer holidays, will return to all 17 of the borough's libraries on Saturday 6 July and run until mid-September.
Each year, the libraries give away thousands of unique top trumps-style cards - known as Starborgs - to children as part of the challenge.
The cards, which are created by the council, feature a colourful array of animal characters and are a hugely popular reward for borrowing books.
However, since Starborgs were first introduced in 2016, many children have collected all or most of the original cards and there is a need to introduce some new characters.
Knowing how popular the borough's art-based events and workshops are, the council is giving residents of all ages the chance to design a new Starborg for this year's challenge, the theme of which is outer space.
Councillor Richard Lewis, Hillingdon Council's Cabinet Member for Central Services, Culture and Heritage, said: "Last year's Summer Reading Challenge proved to be more popular than ever in Hillingdon, with more than 9,000 children taking part and more than 4,000 finishing the whole challenge. The Starborgs are a big part of that success and we want to keep them fresh and captivating for children. This is a fantastic opportunity for people with artistic flair to use their talents and be part of our ongoing efforts to foster a life-long love of reading among our younger residents."
The Starborgs must be colourful, based on animals and have some special super powers - preferably space related to tie in with this year's theme. Other than that, residents are free to let their creative juices flow. Participants are also encouraged to check out the current Starborgs for ideas.
Designs can be hand-drawn or digital but must be submitted electronically via email to summerreadingchallenge@hillingdon.gov.uk by Wednesday 1 May.
The best Starborgs will be chosen to be part of the new pack of 20 cards.
Hillingdon had the highest completion rate in London for last year's Summer Reading Challenge. More than 6,000 complete Starborg sets were given to children.
Page last updated: 05 Jun 2019