Debunking foster care myths in Hillingdon
Tuesday 28 May: Following this year's Foster Care Fortnight campaign (13 - 26 May 2019), Hillingdon Council is on a mission to dispel 10 of the common myths surrounding fostering.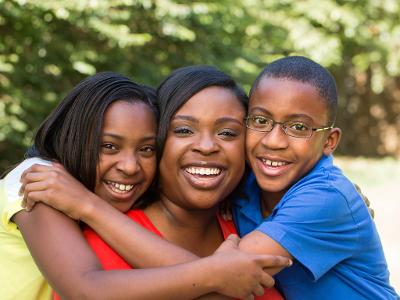 The idea behind debunking these regular misconceptions is to generate interest from people living or working in the borough or surrounding areas who might be interested in becoming a foster carer, though might have ruled themselves out or thought they were ineligible in the past. With 339 children currently being looked after in Hillingdon, the ultimate goal is to recruit more foster carers to provide much-needed loving homes.
The council's fostering team is also holding a series of information events and drop in sessions at the Civic Centre in Uxbridge throughout the summer for anyone interested in learning more, meeting the team and asking questions. Everyone is welcome and there is no need to book.
Myth 1: "I would love to foster, but I'm too old."
There is no maximum age to foster with Hillingdon Council - although applicants do need to be adults with relevant experience of childcare, and fit and healthy enough to look after children and young people.
Myth 2: "I'm renting at the moment and don't own my home."
You don't have to own your own home to be a foster carer. People who rent, live in housing association properties or social housing can foster, but you would need to have permission from your landlord. However, the council cannot accept candidates who have lodgers.
As long as your home is a safe, secure, stable and loving, you can apply to be a foster carer. Additionally, each child or young person will need their own bedroom, but if you are fostering siblings they may be able to share a bedroom, depending on their gender or age.
Myth 3: "I don't have a spare bedroom."
If you're interested in fostering babies up to the age of two, a baby can sleep in a cot placed in the foster carer's bedroom, as long as there is enough space.
Myth 4: "I don't think I can afford to foster."
Foster carers receive a weekly allowance for each child placed with them, and a fee for their work as a foster carer; ensuring foster carers will not be out of pocket.
The council's allowances and fees for their foster carers are competitive and higher than the national minimum. Those who foster also receive a tax break, called foster care relief, and normally if a person is in receipt of benefits, this would not be affected by fostering.
Myth 5: "I'm single, can I foster?"
You don't have to be married or have a partner to be considered for fostering. Single men or women can offer different perspectives on life, and both can be great role models for children and young people in care. In this circumstance, the council would look at the person's support network and how they would balance work, if they are employed, with fostering.
Myth 6: "I'm gay - I can't foster can I?"
Your sexual orientation is part of your identity. The council consider the skills and childcare experience of the person - either through their own children, looking after friends' or family members' children or through work - and the ability to provide a safe and nurturing home to a child or young person.
Young people in foster care have different needs and challenges, and the council welcomes diversity among their foster care community.
Myth 7: "I enjoy my job and may not want to give it up to foster."
Foster carers are self-employed and would receive a fee when they have a child placed with them. However, many foster carers also work in some way outside of fostering, and are able to successfully combine working and fostering. It is also great for children to see parents or carers who are committed to their work.
The council would need to look at how flexible a person's job is and if they are available for children after school or during holiday time, as well as their support network. If a person does wish to look after babies, they would need to be the main foster carer and be at home full time.
Myth 8: "I would consider fostering, but I'm not a parent."
You don't need to have had children. However, before someone can become a foster carer, the council would assess the person has relevant childcare experience. It does not matter if this was gained through caring for their own children, or through their friends and/or family network, or perhaps through working with children and young people as part of their job. The council also provide foster carers in Hillingdon access to a three-day preparation training course called Skills to Foster, which covers the practical and specialist skills needed to look after fostered children.
Myth 9: "English isn't my first language. Am I able to foster?"
Children and young people in foster care come from different backgrounds and many may not have English as their first language. To foster in Hillingdon, a person would need a good level of spoken and written English to be able to support children with their schoolwork, communicate with other professionals involved in the fostering process, and to be able to make notes and keep records as part of the role.
Myth 10: "I'd love to foster but I have a disability."
The council welcome applicants living with a disability. Every person who applies is treated fairly and equally and same checks are applied to all applicants. The checks include a medical check to measure health and fitness and providing the best standard of care to a child or young person. As mentioned already, what is really important is if a person can provide a safe, secure and happy home - a person's disability should not be a barrier to fostering.
In Hillingdon, there is a need for more foster carers who can look after children and younger people from a range of backgrounds and cultures; particularly ones who would be able to accommodate older children, especially teenage girls, siblings and children and young people with special needs and disabilities.
Councillor David Simmonds, Cabinet Member for Education and Children's Services, said: "Fostering can be hugely fulfilling, and with a generous allowance and expert support and guidance from our excellent fostering team, there has never been a better time to explore this opportunity.
"We know there are many misconceptions around who is able to become a foster carer, so we hope that through debunking these myths, we can perhaps peak the interest of the residents who may have ruled themselves out in the past.
"We highly recommend that anyone who has ever considered fostering go along to one of the information sessions or drop-in events to have an informal chat. It could be one of the best decisions you've ever made."
The dates for the information sessions are Tuesday 11 June, Tuesday 9 July, Tuesday 13 August and Tuesday 10 September, all taking place between 6pm and 8pm.
Additionally there is a drop-in event at Brookfield Adult Learning Centre on Friday 5 July, between 10 am and 2pm.
For more information about fostering in Hillingdon, visit www.hillingdon.gov.uk/fostering or call 0800 783 1298 to speak with a member of the team.
Page last updated: 05 Jun 2019