Sun shines at Hillingdon in Bloom launch
Friday 3 May: Hillingdon Council officially launched its annual Hillingdon in Bloom competition on Tuesday 30 April at the Rural Activities Garden Centre, Hillingdon.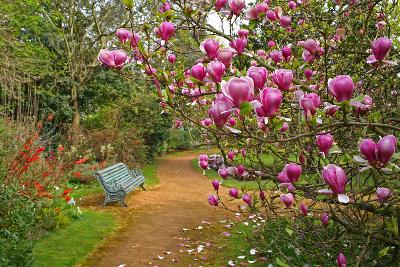 Hillingdon In Bloom is a free gardening competition open to all residents and businesses in the borough, and the council is encouraging people of all ages and abilities to enter the many different categories on offer.
Local gardening enthusiast Shan Baker, from Uxbridge, attended the launch event and is looking forward to entering the competition again this year. In previous years Shan and her husband Phil have won the Roome Cup - awarded to the garden judged to be making the greatest contribution to wildlife conservation.
Shan said: "My husband Phil and I have entered every year since the competition began. We have a small garden, but it's a corner of local interest and a bit of nature in the middle of town. We now have blackbirds, blue tits and collared doves who have now taken up residence. I do hope our garden inspires others to enter Hillingdon in Bloom."
Councillor Jonathan Bianco, Hillingdon Council Cabinet Member for Finance, Property and Business Services said: "We're delighted to launch this year's Hillingdon in Bloom competition at the Rural Activities Garden Centre, and I'm thoroughly looking forward to seeing the entries this year.
"Our gardening and growing competitions make such a difference to our local environment and help instill a sense of pride in the community. I would encourage residents to join in the fun, get growing and help keep Hillingdon London's most blooming, flourishing and eye-catching borough."
All applications for Hillingdon in Bloom must be submitted by Friday 14 June. The winners will be announced at the Autumn Show - a free horticultural event and competition featuring locally grown produce - on Saturday 21 September at the Great Barn, Bury Street, Ruislip. The Autumn Show is also now open for competition entries.
For more information and to enter please visit: www.hillingdon.gov.uk/bloom
Page last updated: 05 Jun 2019