A warm welcome to the new Mayor of Hillingdon
Friday 10 May: Cllr David Yarrow was elected as the new Mayor of Hillingdon at the council's Annual General Meeting last night (9 May), replacing retiring Mayor Cllr John Morgan.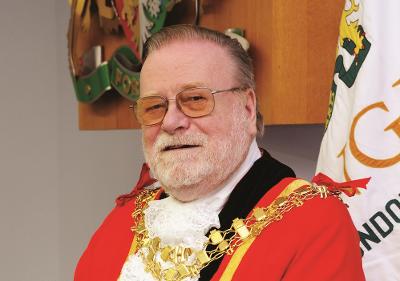 Cllr Yarrow, elected for the second time as Mayor in his career, is looking forward to a busy year ahead, with his prestigious role involving attending events and engagements to promote the positive work taking place across the borough.
The Mayor and Mayoress, Mary O'Connor MBE will open events, performances and exhibitions, and will welcome schools and community groups to the Mayor's Parlour and Council Chamber.
Cllr Yarrow said: "As a councillor I have always enjoyed being able to help and serve our residents and being elected as Mayor for a second time is a great honour and I feel extremely privileged to have been appointed again.
"During this year of office there will of course be many official and civic duties to perform, but I am also looking forward to serving our community in other ways too, by attending and supporting the many functions and events held by the individual groups, clubs and organisations and sharing a small part of the lives of the many citizens of this wonderful community of Hillingdon.
"I look forward to meeting the Mayors of all the London boroughs and it goes without saying the voluntary sector of Hillingdon who do so much with so little.
"I also hope to raise lots of money for my chosen charities."
Cllr Yarrow was elected to the council in May 1990 and was Deputy Leader between 1998 and 2002. He last served as Mayor in 2010/11. He is a member of the Central and South Planning Committee, Major Planning Committee and the HS2 Planning Sub-Committee.
In addition, Cllr Yarrow was previously chairman of the Executive Scrutiny Committee, Education Youth and Leisure Committee, Social Services Committee and Contract Review Committee.
Cllr Yarrow had a Grammar School education in Bradford, West Yorkshire. He qualified as a metallurgist from Bradford Technical College in 1965. Following this, he started work as a research metallurgist in the high alloy steel industry and held a varied portfolio of positions within light engineering companies, in both the UK and USA.
Cllr Yarrow was primarily involved with quality control, but worked as both a sales manager and a works manager in his later years. He retired in December 2008 to be able to continue with his local government service. His other interests include photography, travel, music, electronics and computing.
The two charities the Mayor's Charity Appeal will support are Hillingdon Autistic Care and Support, who provide support to autistic people, families and professionals, and the Hillingdon Brain Tumour and Injury Support Charity, which gives support to anyone in the borough and surrounding areas affected by any type of brain tumour or brain injury.
The Deputy Mayor, who was also appointed last night, is Cllr Teji Barnes. The Deputy Mayoress is Roma Bell, while the Deputy Mayor's Escort is Cameron Bell.
If you would like the Mayor to visit your organisation or event call 01895 250763 or email mayor@hillingdon.gov.uk. To find out more about the Mayor's Charity Appeal and donate visit www.hillingdon.gov.uk/mayor
Message from Cllr John Morgan, Mayor of Hillingdon 2018/19
Cllr Morgan said: "It has been a great honour and privilege to serve the London Borough of Hillingdon as their Mayor. To fulfil that role as the first citizen of the borough has been a wonderful and memorable lifetime experience. The Mayoress, Fiona Morgan and the Mayor's Escort, Pauline Bianco, have supported me throughout my year in visiting schools, hospitals, care homes, retail outlets, voluntary organisations and representing the borough at national events.
"We have enjoyed the opportunity to meet as many groups, communities and residents that were possible that go to make Hillingdon a great place to live and raise a family.

"Thanks go to the numerous people and organisations that have supported the three Mayor's charities this year in helping to raise in the region of £48,000."
At the Annual General Meeting, Hillingdon Council Leader, Cllr Ray Puddifoot, pledged to double Cllr Morgan's 2018/19 charity total, bringing the total amount raised to £96,000.
Page last updated: 05 Jun 2019