Child car seat safety campaign success
Friday 10 May: Hillingdon Council delivered its most successful child car seat safety campaign last month.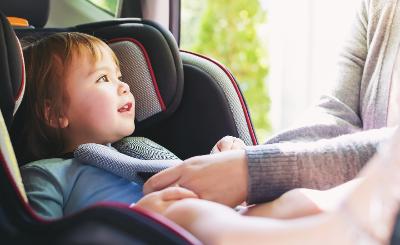 The council commissioned a series of free child car seat checks by car safety experts Good Egg Car Safety at drop-in clinics across the borough.
The aim of the initiative was to highlight the importance of residents having the correct car seat for their child's height and ensure it was fitted correctly.
Taking place during the Easter school holidays, at venues in South Ruislip, Uxbridge, Hayes, Northwood and West Drayton, the clinics saw the largest turnout from residents in recent years, with 206 car seats checked over the two weeks of the campaign.
Out of those checked, more than half (108) were found to be fitted incorrectly. Most of these displayed minor errors which could be rectified on the day, but 56 were picked up to have either major errors or were completely incompatible with the owners' cars altogether.
In previous years, the borough saw less seats being checked, although the ones that were revealed a higher number of serious errors.
In 2017, out of the 72 car seats checked, only 13 were correctly fitted. While in 2016, 108 seats were checked but only 31 seats were fitted correctly.
At the clinics, many parents and carers expressed their appreciation for being able to receive tips on the right seat for their car, as well as learning how to fit their seats correctly and safely. Others valued being able to get peace of mind and reassurance.
Cllr Keith Burrows, Hillingdon Council Cabinet Member for Planning, Transportation and Recycling, said: "Anyone driving young children in their car must take responsibility to ensure their child's car seat is fitted properly. This small but vital task could end up saving a child's life or prevent serious injury.
"It is positive to see the uptake of car seat checks improving in the borough, with more parents making sure their children's safety is addressed while travelling by car.''
Having your child's car seat fitted correctly will not only ensure their safety, but protect you legally as well.
Under car seat law, you could be liable to prosecution if any child under 14 is in your car and not wearing a correct child restraint or seat belt. If they are over 14, they will be liable themselves.
You could also be served a monetary fixed penalty or possibly penalty points if a child is found to be unrestrained.
Further to this, if you are in an accident, your compensation could be restricted. Any money awarded after an accident may be reduced if anyone in the car was not properly restrained.
In addition to seat belt legislation, the law penalises those deemed to be carrying passengers in a dangerous manner. This is a much more serious offence and carries a fine of up to £2,500 and three penalty points.
To find out more about child car seats and the law visit www.goodeggcarsafety.com
Page last updated: 05 Jun 2019