Culture Bite Lunches
Hillingdon Libraries brings its popular Culture Bite author events to lunchtime, to help you through lockdown.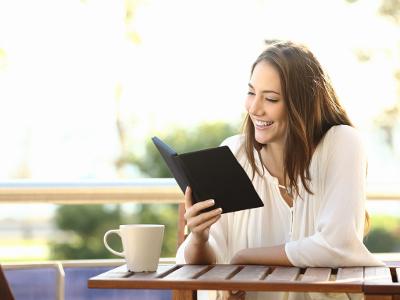 Whether you're working from home or tuning in from your office during a break, our fast, fun and friendly live broadcasts are sure to introduce you to a new favourite author or two.
All our author interviews will be streamed live to Hillingdon Libraries' social media channels, giving you the chance to put your questions to authors in real time.
Join us on Facebook or YouTube on the relevant days/times below.
Missed it live? A number of our interviews will also be available afterwards for you to watch whenever you like.
---
Tuesday 8 June, midday to 12.30pm
Bryan Kessellman - The Madness of Captain Mills
Captain John Powell Mills voyages across the oceans entrusted with conducting emigrants to new worlds, but with a mind gradually losing its hold on reality and an increasing dependence on alcohol. His passengers and crew are threatened with disaster. Based on actual events.
Bryan Kesselman was born in England and studied at the Guildhall School of Music and Drama. He has composed a number of operas and choral works. Paddington Pollaky Private Detective, was published in 2015. The Madness of Captain Mills, an historical maritime fiction is his second published novel.
---
Tuesday 15 June, 1pm to 2pm
Lunch with Libby Page
An exclusive lunch with the lovely feel-good fiction Queen Libby Page. Author of 'The Lido', 'The 24-Hour Café' and her latest book 'The Island Home'! Join us for this interactive Facebook Live event where you can join in the conversation and ask Libby your questions
The Island Home
Lorna's world is small but safe. She loves her daughter, and the two of them is all that matters. But after nearly twenty years, she and Ella are suddenly leaving London for the Isle of Kip, the tiny remote Scottish island where Lorna grew up. Alice's world is tiny but full. She loves the community on Kip, her yoga classes drawing women across the tiny island together. Now Lorna's arrival might help their family finally mend itself - even if forgiveness means returning to the past... So with two decades, hundreds of miles and a lifetime's worth of secrets between Lorna and the island, can coming home mean starting again?
'Wonderfully engaging . . . beautifully drawn' Mike Gayle
---
Friday 18 June, midday to 12.30pm
Ros Russell: The End of Where We Begin - A Refugee Story
Rosalind Russell is a journalist and editor with 2 decades of international experience. She has worked as a foreign correspondent for Reuters and the Independent in East Africa, the Middle East and Southeast Asia. Her reporting has included the fall of the Taliban in Afghanistan, the war in Iraq and Burma's Saffron Revolution. We talk to her to commemorate Refugee Week 2021 and discuss her book "The End of Where We Begin".
The End of Where We Begin - A Refugee Story
Veronica is a teenager when civil war erupts in South Sudan. Lonely and friendless after the death of her father, she finds solace in her first boyfriend, and together they flee across the city when the fighting breaks out. On the same night, Daniel, the son of a colonel, also makes his escape, but finds himself stranded by the River Nile, alone and vulnerable. Lilian is a young mother, who runs for her life holding the hand of her little boy Harmony until a bomb attack wrenches them apart, forcing her to trek on alone.
---
Thursday 24 June, 1pm to 1.45pm
Truth or Dare: M. J. Aldridge
Join us as we speak to master of the killer thriller M. J. Aldridge in this special lunchtime event and talk all about his latest book 'Truth or Dare'.
Truth or Dare
A crimewave sweeps through the city and no-one is safe. An arson at the docks. A carjacking gone wrong. A murder in a country park. What connects all these crimes without causes, which leave no clues? Detective Inspector Helen Grace faces the rising tide of cases which threatens to drown the city. But each crime is just a piece of a puzzle which is falling into place. And when it becomes clear just how twisted and ingenious this web of crime is, D.I. Grace will realise that it maybe impossible to stop it . . .
---
Missed it live?
If you missed any of our interviews live, you can watch them right now below...
Dawnie Walton - The Final Revival of Opal & Nev
---
Rebecca Watson - Little Scratch
---
Dean Burnett - Psycho-Logical
---
Lord Christopher Laverty - Fashion in Film
---
Bonnie MacBird - Sherlock Holmes: The Three Locks
---
Katy Colins - The Best is Yet to Come
---
Ingrid Persaud - Love After Love
---
Phil Bowne - Cows Can't Jump
---
David Tossell - All Crazee Now: English Football and Footballers in the 70s
---
William Shakespeare Special with Dr Anna Beer from the University of Oxford
---
Ali Benjamin - The Smash-Up
---
Deborah Rodriguez - The Moroccan Daughter
---
Michelle Davies - Shadow of a Doubt
---
Steady: Keeping Calm in a World Gone Viral with Dr. Sarb Johal
---
Dog's Best Friend with Simon Garfield
---
Writing Creative Non-fiction with Author Georgie Codd
---
Cherie Jones - How the One-Armed Sister Sweeps Her House
---
Derek B Miller - Radio Life
---
Robert Jones Jr - The Prophets
---
She Will Soar with Ana Sampson
---
Secrets and Lies with Karen Hamilton
---
Shadow Sands with Robert Bryndza
---
Three Women and a Boat with Anne Youngson
---
The Ship Sets Sail with Antonia Honeywell
---
Dark Dystopias with Tracey Mathias
---
Rowena House
---
Matt Killeen
---
Catherine Cooper
Page last updated: 26 May 2021